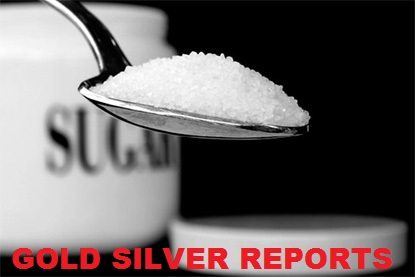 Gold Silver Reports — India Government has decided to allow States to impose and enforce stock limits to check the price rise in sugar.
The Union Cabinet chaired by the Prime Minister Narendra Modi on Wednesday gave its approval to bring "sugar" under the purview of imposing stock holdingLimits on dealers of sugar, keeping in view the recent upward trend in sugar prices.
"The Government has noticed that in spite of sufficient availability of sugar stocks with the Sugar Mills, the wholesale and retail prices have shown a spurt," according to an official notification.
The Modi-Government has taken stock of the availability of sugar and different factors contributing to rise in market prices of sugar across the country. "In order to check the inflationary tendencies in sugar and to reduce hoarding by wholesalers and retailers, the Modi Government felt an immediate need to bring sugar within the purview of stock limits."
The decision will empower State and Central-agencies to impose stock limits and regulate supply, distribution, storage and trade of sugar to bring down sugar prices at reasonable level by curbing unscrupulous trading. — Neal Bhai Reports