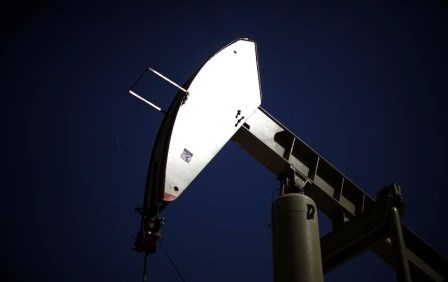 Gold Silver Reports — Crude Oil prices dipped in Asia today as traders took profits after costs hit a new high for the year in response to falling US crude production.
Prices surged to 2016 peaks for the second straight day yesterday after the Federal Reserve left interest rates unchanged but appeared less concerned about global conditions, opening the door a crack to a rate hike in June. US government data showed that production dropped by 15,000 barrels a day to 8.94 million a day through April 22, while stockpiles were at their highest level since October 1929 at 540.6 million barrels.
At about 0930 IST, US benchmark West Texas Intermediate for delivery in June was down 19 cents at USD 45.14 a barrel while Brent for June delivery was 21 cents down at USD 46.97. This resulted from profit-taking driven by sentiment rather than fundamentals, said Peter Lee.
"Everyone is an oil bull now. Any sign of production going down is a good sign," Lee told AFP. Sydney-based Fat Prophets resource analyst David Lennox said that as prices edged up over the past two weeks, intra- day trading has shown spikes in either direction, a result of an "extremely jittery" market. "It's a battle between feeling that (prices) are still going to go down, but getting excited when you see any new information about the markets," he said. Prices have started to recover after falling to the lowest level since 2003 in February amid signs of easing oversupply and falling US output.