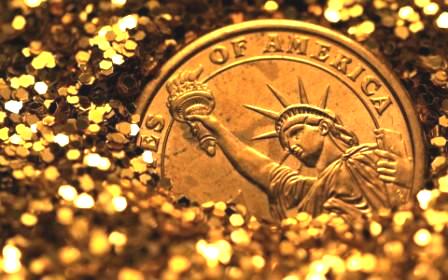 Gold Silver Reports — Gold eased below a 3-week high on Wednesday as the dollar regained some ground from the yen and equities climbed higher, but the metal remained a favourite amid uncertainties in the globaleconomy and timing of a US rate hike.
FUNDAMENTALS
♦ Gold spot eased 0.1 percent to USD 1,254.10 an ounce by 0041 GMT, following a 1.4 percent overnight rise.
♦ The metal jumped to a three-week high of USD 1,262.60 on Tuesday but pared some gains after the dollar strengthened.
♦ The US dollar rebounded against the safe-haven yen a day after hitting its lowest level against the currency in roughly a year and a half on greater risk appetite from gains in equity and oil prices.
♦ Brent crude oil prices hit a four-month high and energy equities rose on Tuesday after reports of an agreement between two major producers to freeze output.
♦ The dollar has been on the back foot this year as investors scaled back expectations of rate hikes by the Federal Reserve, while concerns over global economic growth have hit equities.
♦ Fed policymakers signalled in December that four hikes would probably be needed this year, though policymakers cut their view in March to two rate increases for 2016. Markets are factoring in only one rate hike.
♦ The Fed could reasonably raise interest rates two or three times this year, San Francisco Fed President John Williams said on Tuesday, adding that he does not expect much market turmoil when it does.
♦ The Fed will likely have to raise interest rate around four times this year, Richmond Fed President Jeffrey Lacker said on Tuesday.
♦ Elsewhere, growing confidence in gold's price rally is underpinning investment demand for the metal in top consumer China, driving inflows into bullion-backed funds and prompting financial institutions to launch new products in the country.
♦ SPDR Gold Trust , the world's top gold-backed exchange-traded fund, said its holdings fell 0.33 percent to 815.14 tonnes on Tuesday.