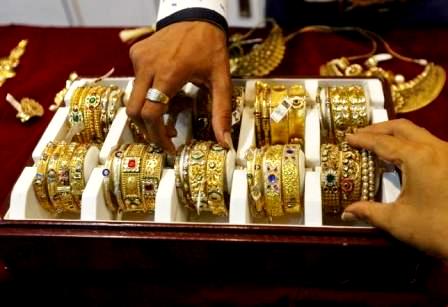 Gold Silver Reports — Gold on MCX settled up 1.04% at 29937 tracking gains from Comex Gold which jumped to their highest since mid-May settled above $1272 the highest since May 18 bolstered by a slumping dollar and expectations the Fed won't raise interest rates until the jobs market improves.
Bullion prices have rallied since a dismal May jobs report last Friday, also US mortgage rates fell sharply as banks adjusted after a dismal May jobs report reduced the likelihood of Federal Reserve tightening monetary policy.
On Thursday Neal Bhai Reports showed there is a 40% chance the Federal Reserve will raise interest rates in July, according to median projection, along with a 65% probability of an initial rate hike in September. Economists have virtually taken a June rate hike off the table following a dismal U.S. jobs report in May when the economy added its fewest nonfarm payrolls in nearly six years. At the same time, market players have engaged in a flight to safety to low-risk assets such as gold and the yen, as financial stocks and bond yields continue to tumble.
While Holding in SPDR Gold Trust (GLD), the world's largest gold-backed exchange-traded fund, rose 0.71 percent to 887.38 tonnes on Thursday. Also bullish for bullion, investors have almost priced out the chance of a rate increase at the Fed's June 14-15 policy review and reduced the likelihood of a July increase to about 26 percent. Technically market is under fresh buying as market has witnessed gain in open interest by 6.14% to settled at 9124 while prices up 308 rupee, now Gold is getting support at 29730 and below same could see a test of 29525 level, and resistance is now likely to be seen at 29985, a move above could see prices testing 30050. — Neal Bhai Reports