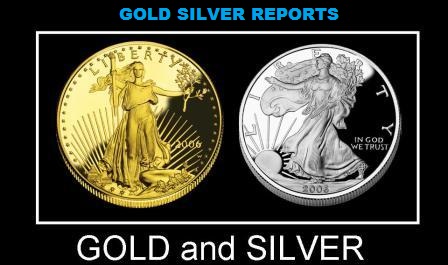 Gold Silver Reports ~ Gold trading near a 2 month high, its price buys 78 ounces of silver, near the most since August. In the past two decades, the ratio has only been above that level on about five occasions, and never for more than a three months.
It's time for silver to outperform gold, if history is any guide.
Gold has fared better this week as global market turmoil and geopolitical tension in the Middle East and Asia promptedinvestors to seek a haven. Silver has lagged because industrial uses account for half of its demand, compared with about 10% for gold. Historyshows gold hasn't been able to better silver for long during a crisis: while the ratio surged over 2 months in 2008, the cheaper metal then outperformed over the following year.
"People have been looking to gold for a safe haven, and that is what you will expect at this stage," said Grant Sporre, an analyst at Deutsche Bank AG in London. "But pretty soon they'll start looking at the relative-value trades, and that's when you'll see silver perform."
Gold is zoom 3.6% so far this week at $1,099.47 an ounce in London, while silver has added 1.7 percent to $14.05 an ounce. Since the early 1970s, the ratio has averaged about 56, according to data. For the measure to decline, silver would need to climb more or fall less than gold.
When the ratiopeaked at almost 80 in August, silver rallied 14 percent in the following two months. Gold added about 5 percent in the period.
"We're definitely at or about long-term highs for the ratio, and that has proved very significant in the past," Adrian Ash, head of research at BullionVault, an online trading service, said by phone from London. ~ Neal Bhai Reports