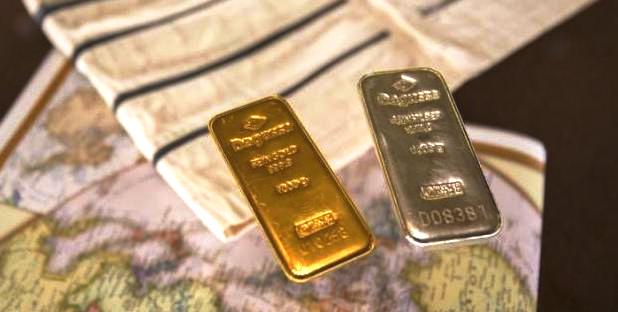 Gold Silver Reports — U.S. stocks meandered, with the Dow Jones Industrial Average ticking up to its highest level since July as global equities capped a fifth straight advance on gains in Europe and Asia.
Commodities retreated as oil slipped and a stronger dollar weighed on metals.
Mixed corporate earnings saw the Standard & Poor's 500 Index swing between gains and losses, with financial shares advancing a second day amid a spate of results, while consumer-staples producers and mining shares declined. The Stoxx Europe 600 Index capped its longest rally in six weeks. Crude slipped before talks on a possible output freeze. The dollar edged higher even as data showed U.S. inflation cooled. Defaults on high-yielding American bonds have topped $14 billion, the largest monthly volume in two years.
The global stock rebound that wiped out the worst start to a year on record gathered pace Thursday as optimism over China's economy overshadowed expectations for declines in American company profits. The dollar's more-than 6 % drop since late January is starting to meet some resistance, with Federal Reserve officials — already challenged by sluggish global demand prospects — potentially unable to make a case for imminent interest-rate increases given price growth remains subdued.
"It's time for the market to earn the rally we've had over the last seven or six weeks, in terms of an actual earnings picture," said Michael Mussio, managing director of FBB Capital Partners LLC in Bethesda, Maryland, which oversees $850 million. "The numbers don't counter anything in terms of the broad economic trend. We're back to waiting and seeing."
Stocks
The S&P 500 rose less than one point to 2,082.78 as of 4 p.m. in New York, technically extending its winning streak to three days. The index has surged almost 14 % from a February low and is now 2.2 % below its all-time high. Skepticism still prevails, however, with valuations far above their five-year average and the seven-year bull market weeks away from becoming the second-longest in history.
Financial shares climbed 0.3 % as a group after Bank of America, Wells Fargo & Co. and BlackRock Inc. reported first-quarter profits. Delta Air Lines Inc.'s earnings helped an index of air carriers to a 1.8 % rally. Seagate Technology Plc tumbled 20 % after the company's earnings forecasts trailed targets, leading to a selloff among semiconductor shares.
The cost of living in the U.S. excluding food and fuel rose in March less than economists forecast, data showed Thursday. A separate report showed that the number of Americans filing applications for unemployment benefits unexpectedly declined last week to match a more than 42-year low.
The Stoxx 600 climbed a fifth day, adding 0.3 % to the highest level in a month. Food-and-beverage companies had best performance of the gauge's 19 industry groups.
The MSCI Asia Pacific Index jumped 1.8 %, erasing its loss for the year, while MSCI's Emerging Markets Index rose 0.2 %, for its highest close since Nov. 6 and a sixth day of gains.
Futures on Japan's Nikkei 225 Stock Average slipped 0.7 % in Osaka, while surging 1.2 % advanced. Contracts on indexes from Australia to South Korea climbed at least 0.1 %.
Currencies
Central bankers abroad have sought to limit further gains in their currencies versus the greenback, with Singapore unexpectedly on Thursday moving to a neutral policy of zero % appreciation in the managed exchange rate.
The Singapore dollar slid 0.9 % amid the shift in policy, a position that was last adopted at the height of the global financial crisis in October 2008.
The Bank of Canada has warned that the local dollar's more-than 10 % gain since the middle of January is starting to hurt the economy, while Japanese officials are trying to jawbone the yen, the best performing major currency this month.
The yen slipped 0.1 % to 109.40 per dollar in a third day of declines.
Commodities
Oil slipped before the meeting in Doha this weekend, as the International Energy Agency predicted the global surplus will almost vanish in the second half of the year.
West Texas Intermediate for May delivery fell 0.6 % to settle at $41.50 a barrel on the New York Mercantile Exchange. Futures dropped 1 % to $41.76 on Wednesday after advancing 13 % over the previous three sessions.
A gauge of 18 large global base-metal producers fell 1 %, halting a four-session rally that was the longest in more than five weeks.
Gold futures slid 1.8 % to $1,226.50 an ounce in New York. The Bloomberg Commodity Index snapped a four-day climb, slipping 0.7 % Thursday.
Bonds
The longest-maturity Treasuries declined even after the report showing U.S. consumer prices rose less in March than analysts had forecast. Thirty-year Treasury yields rose two basis points, or 0.02 %age point, to 2.60 %, while rates on benchmark 10-year notes gained three basis points to 1.79 %. Yields fell last week to their lowest since February.
Defaults U.S. high-yield bonds have topped $14 billion in April — the largest monthly volume in two years, according to Fitch Ratings — and the month isn't even half over. The speculative-grade default rate for the past 12 months is on pace to reach 3.9 % in April, up from 2.1 % for the same period a year ago, after Peabody Energy Corp. and Energy XXI Ltd. filed for bankruptcy this week.
A jump in euro-area government bonds was stopped in its tracks as the region's inflation rate was revised higher and oil prices rose. Italian, Spanish and German securities all retraced Wednesday's rally. — Neal Bhai Reports