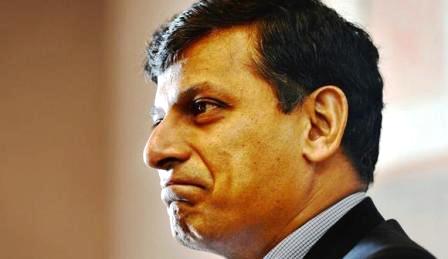 Gold Silver Reports — RBI Governor Raghuram Rajan, a much admired former International Monetary Fund chief economist, could be chairing his penultimate policy review, with investors waiting to hear whether the government plans to extend his 3-year term beyond September.
Reuters reported last week he was likely to be offered another two years, should he want it, but markets were spooked after a regional newspaper cited sources close to Rajan saying he could walk away.
Regardless of whether Rajan stays or goes, most economists polled by Reuters reckon he could cut the repo rate by 25 basis points between July and September – possibly the last reduction of an easing cycle – if forecasts for good rains prove correct.
Food prices spiked during droughts in the last two years and, with rains due to start in coming days, all but one of the 44 economists polled predicted the RBI will leave rates unchanged for now.
"This is a sweet spot for the RBI, with inflation on track and an upward bias to growth," said A. Prasanna, an economist at ICICI Securities Primary Dealership Ltd in Mumbai.
"Overall the policy stance will be balanced with no rate cuts unless there is better clarity on the monsoon. They will keep the word "accommodative" in the statement."
REASONS TO PAUSE
Growth of 7.9 percent in the March quarter cemented India's ranking as the world's fastest growing large economy, yet it needs even faster growth to create jobs for millions of youngsters joining the workforce.
Though private investment is subdued, the RBI's priority is meeting inflation targets of 5 percent by March 2017 and 4 percent over the medium term.
Helped by an oil price slump, Rajan has cut the repo rate by 150 bps since January 2015 – including a 25 bps reduction in early April – but there are now reasons to pause.
Annual consumer price inflation accelerated to 5.39 percent in April, crude prices are well off January's more than 12-year lows, a U.S. rate hike is anticipated, and any shortfall in rain could ignite food prices.
For now, economists say, Rajan will focus on persuading banks to pass on benefits of earlier RBI rate cuts to borrowers, as they have only lowered lending rates by 65 bps since early 2015.  — Neal Bhai Reports