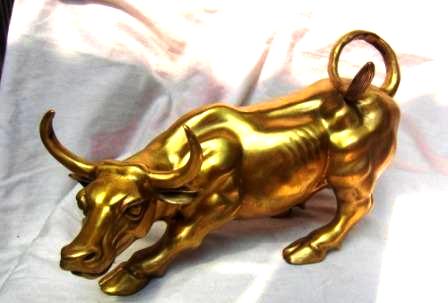 Gold Silver Reports ~ Gold steadied below last week's 13-month high on Monday, its recent rally doused by robust U.S. employment data that underpinned expectations that the Federal Reserve could raise interest rates this year.
Or The Fed is unlikely to lift rates as soon as next week during its policy meeting, providing some support to non-interest bearing gold.
Spot gold was little changed at $1,259.80 an ounce by 0313 GMT. The metal peaked at $1,279.60 on Friday, its strongest since Feb. 3, 2015, but then slipped on data showing that U.S. nonfarm payrolls rose by a forecast-beating 242,000 last month.
The data also showed that 30,000 more jobs were added in December and January than previously reported, helping ease fears the U.S. economy was heading into recession and refocusing attention on the case for future rate hikes.
"Despite the very strong nonfarm it seems that the expectations for a March hike are still fairly low," said OCBC Bank analyst Barnabas Gan, and the scenario of the Fed staying put at its March 15-16 meeting was "supporting gold at this juncture."
Or Gan said he remains bearish on gold prices, predicting they will be at around $1,000 to $1,150 by year-end, with the Fed likely to raise interest rates at least once this year.
The Fed increased U.S. interest rates for the first time in nearly a decade in December amid signs of strength in the world's top economy.
U.S. gold for April delivery dropped 0.8 percent to $1,261.10.
HSBC analyst James Steel believes the rally in gold remains largely intact with the metal not falling sharply despite the strong U.S. jobs data.
"But at these high prices restrained physical demand may begin to temper the rally and we could be in for some profit taking or liquidation," Steel wrote in a note.
Hedge funds and money managers reduced their bullish bets in COMEX gold in the week to March 1 for the first time since switching to a net long stance in mid-January, U.S. Commodity Futures Trading Commission data showed on Friday.
Spot silver was flat at 15.51 an ounce, palladium slipped 0.4 percent to $553 and platinum dropped 0.5 percent to 974.50. ~ Neal Bhai Reports