Gold Silver Tips Today: Today Made a Lot of Money in Gold Silver With Neal Bhai Reports (NBR)
Red Alert for Bullion Market: Risk aversion spiked late inthe New York session as the US warned its citizens toleave Ukraine within 48 hours due to Russian invasion risks. This sent Wall Street into a tailspin and sent the US 10-year Treasury yields crashing below daily support from 2.061% to a session lowof 1.915%. The greenback remained in positive territory in the 96 areas, DXY. However, for its haven allure, gold buyers emerged and the following illustrates past and prospective price action in a top-down analysis.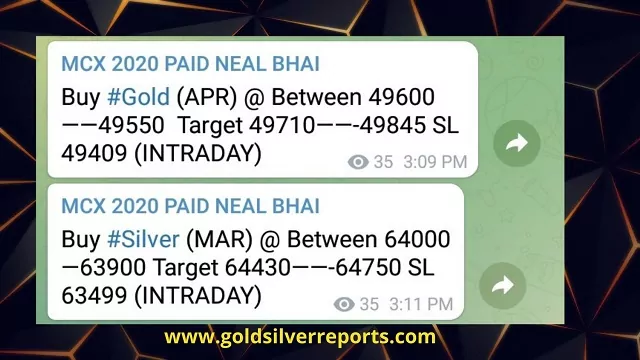 Bullion Market Hits 3-Month Top on Russia-Ukraine Tensions: Gold prices held their ground on February 14 near a three-month high touched in the previous session, as lingering concerns surrounding the Ukraine impasse kept the metal's safe-haven appeal intact.
At the Multi-Commodity Exchange (MCX), gold contracts were trading higher by 1.50% at Rs 49,894 for 10 grams at 08:35Pm and silver jumped 2.23% to trade at Rs 64,537 a kilogram.
सोशल मीडिया अपडेट्स के लिए हमें
Facebook ( https://www.facebook.com/goldsilverreports/ )
linkedin (https://www.linkedin.com/in/nealbhai/ )
और Twitter ( https://twitter.com/goldsilverrepor ) पर फॉलो करें।
हमारी फ्री सर्विस और लोगो की paid सर्विस से कई गुना अच्छी है।
आपको हर दिन दिए जाएंगे 3 से 5 कॉल बिलकुल फ्री
हर CALL में PROFIT दिये जायेंगे
तो जल्दी से MCX CHANNEL को JOIN कर लो (NEAL BHAI REPORTS)
JOIN US CLICK HERE

EQUITY CHANNEL को JOIN कर लो (EQUITY FREE TIPS)
JOIN US CLICK HERE