Gold Silver Reports — Gold fell more than 1 percent on Friday after U.S. March payrolls data beat expectations, allaying some fears about the U.S. economy and stoking speculation about the timing of likely interest rate hikes by the Federal Reserve this year.
U.S. employers added 215,000 jobs in March, the payrolls report showed, against expectations for 205,000. U.S. interest rate futures suggested traders are now betting the Fed will next raise rates as soon as November, versus December ahead of the report.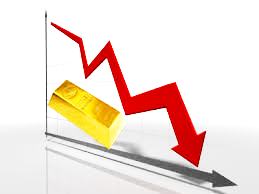 Spot gold was down 1 percent at $1,220.07 an ounce by 2:49 p.m. EDT (1849 GMT), having earlier touched a low of $1,208.45, while U.S. gold futures for June delivery settled down $12.1 an ounce at $1223.50.
The metal saw its biggest quarterly rise in nearly 30 years in the three months to March, rallying more than 16 percent as expectations faded that the Fed would move to normalize interest rates after their first increase in nearly a decade in December.
"We may have had a few more people thinking the Fed's going to hike (rates) in June because of the numbers. I don't agree with that – I think the fed will hike just once this year," said Bill O'Neill, co-founder of commodities investment firm Logic Advisors in New Jersey.
"It's an emotional market right now and we get different signals from the Fed governors. What has people worried is that there is something of a split in the Fed and they aren't all on the same page."
Gold had risen as much as 2 percent earlier this week after Fed Chair Janet Yellen said the U.S. central bank should proceed only cautiously with further interest rate increases. The metal slid 3% last week after hawkish comments from several Fed officials.
The metal is sensitive to moves in U.S. rates, as a rise would lift the opportunity cost of holding non-yielding assets such as bullion, while boosting the dollar.
European stocks fell and U.S. stocks opened lower after the jobs data, seen as a sign of economic resilience that could allow the Federal Reserve to gradually raise rates this year.
Physical gold demand in the major Asian markets of China and India has been soft this week due to rising prices, traders said. India's gold demand in the March quarter is set to drop by about two-thirds from a year ago to its lowest in seven years.
Silver was down 2.4 percent at $15.04 an ounce, while platinum was down 1.9 percent at $954.50 an ounce and palladium was down 0.4 percent at $559.5 an ounce. — Neal Bhai Reports