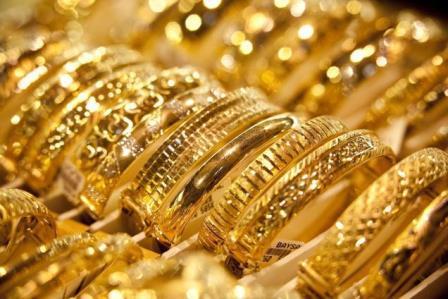 Gold Silver Reports – Gold edged lower on Friday, but was not far off a 13-month peak reached in the prior session when a weaker dollar and technical buying gave bullion its best day in two weeks.
Investors are eyeing crucial U.S. nonfarm payrolls data due later in the day, where a strong reading for February could stall further gains in the precious metal, now up nearly 19 percent this year and among the top commodity performers.
Gold spot was down 0.2 percent at $1,260.76 an ounce by 0601 GMT, after rallying as much as 2.2 percent to $1,267.06 on Thursday, its strongest since Feb. 6, 2015. It has gained 3.2 percent this week.
Gold's retreat was expected after the sharp technical buying overnight, said Daniel Ang, investment analyst at Phillip Futures in Singapore. Ang said the modest drop showed "bullish momentum is very strong at the moment".
U.S. nonfarm payrolls are estimated to have risen by 190,000 last month after increasing by 151,000 in January, according to a Reuters poll of economists.
There is significant upward momentum in the gold market and "it would take a markedly positive jobs number to seriously dent the rally", HSBC analyst James Steel wrote in a note.
Reflecting sustained faith in gold, holdings of SPDR Gold Trust, the world's largest gold-backed exchange-traded fund, rose further to 25.51 million ounces on Thursday, a new high since September 2014.
"This leads us to look for the rally to hold, even in the case of a good (U.S.) jobs number," said Steel.
U.S. gold for April delivery climbed 0.3 percent to $1,262.20 an ounce.
A "blockbuster" nonfarm payroll numbers is unlikely to have a major impact on the U.S. Federal Reserve's policy stance, Mizuho Bank said. "The gradual pace of tightening will be maintained in the context of China risks, global financial volatility and the knock-on impact on the U.S. economy," the bank said in a note.
That should help non-interest yielding gold add to gains in the short term.
Dallas Federal Reserve President Robert Kaplan called on the U.S. central bank to be patient when it comes to raising interest rates, citing the effect of tighter financial conditions on U.S. economic growth.
Spot silver was steady at $15.25 an ounce and so was platinum at $950.10. Palladium dropped 0.9 percent to $535.  – Neal Bhai Reports