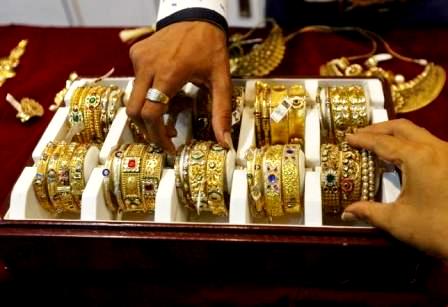 Gold Silver Reports — European markets are trading higher as weaker Chinese inflationdata fueled investor hopes that Beijing will keep monetary policy loose. Asian markets are trading mixed and the US stock futures are trading in the green.
Spot gold prices are trading higher today by 0.73 percent at $1249.4/oz while MCX gold prices are trading higher by 0.27 percent at Rs.29210 per 10 gms. Gold prices shot to their highest in almost three weeks on Monday, setting the market on a steady course toward $1,300 per ounce, drawing confidence from an ultra-low interest rate environment. Weak economicdata and uncertainty over U.S. monetary-policy has contributed to risk aversion, boosting investor appetite for bullion and other assets perceived as safer stores of value, including the Japanese yen.
LME copper prices are trading lower by 0.4 percent today at $4644.5/tonne owing to surge in LME stocks by 1.2 percent. However, weaker than expected inflation fuelled hopes China's monetary authorities may release more stimulus. The consumer price index was at 2.3 percent in March from a year earlier, matching February's level, as food prices jumped 7.6 percent. On the MCX, copper prices trading lower by 0.7 percent at Rs.306.1 per kg in line with international-trends.
WTI oil prices are trading lower today by 0.6 percent at $39.48 per barrel, while MCX oil prices are trading higher by 0.27 percent at Rs.2630 per barrel. Oil prices slipped on Monday over worries that the result of next Sunday's meeting of producers in Qatar aimed at freezing current output levels would fail to improve the current supply-demand balance. Oil prices rallied more than 6 percent last week after data showed U.S. energy firms had cut oil rigs for a third straight week to the lowest since November 2009.
We expect gold prices to trade higher continuing its positive momentum from the previous trading session. Besides, cautious approach by the US Federal Reserve to do the rate hike will also act as a positive factor for the yellow metal.
Oil rigs in operation the US are at the lowest since 2009, which will result in lower oil output and higher oil prices. However, the global glut of crude inventory continues to bother oil investors across the globe.
We expect LME Copper prices to trade sideways as China's consumer price inflation was less than expected in March, while wholesale prices declined less than anticipated. However, investors will be cautious ahead of the Fed announcement. — Neal Bhai Reports