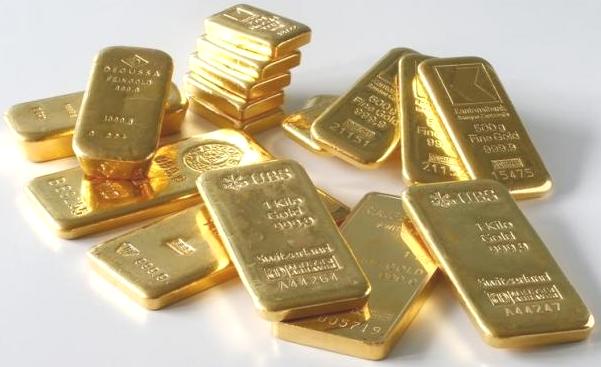 Gold built on gains from the previous day's surge on Thursday, as investors continued to react to a surprising move from the Federal Reserve to lower its interest rate forecast for the near-term future.  
◊ On the Comex division of the New York Mercantile Exchange, gold for April delivery traded in a broad range between $1,255.30 and $1,271.80 an ounce, before settling at 1,268.50, up 36.70 or 2.98% on the session. With the sharp gains, gold erased most of its losses from a brief sell-off over the previous week and a half when the precious metal fell by $40 an ounce. Since opening 2016 around $1,075, gold has surged more than 16%, posting one of its strongest starts to a year in three decades.
◊ Gold likely gained support at $1,063.20, the low from January 4 and was met with resistance at $1,280.70, the high from Mar. 11.
◊ Gold rose considerably on Thursday, one day after the Federal Open Market Committee (FOMC) maintained the target range on its benchmark Federal Funds Rate at a level between 0.25 and 0.50%. The Fed concluded its two-day March meeting without adjusting rates, amid heightened global financial and economic risks and moderate firming of inflation. It marked the second consecutive meeting the FOMC left short-term rates unchanged, after the U.S. central bank ended a seven-year zero interest rate policy by raising rates 25 basis points in mid-December.
◊ More importantly, the FOMC cut its rate outlook for the next 21 months lowering its 2016 forecast by 50 basis points to 0.88% and 50 basis points by the end of next year to 1.88%. Implicitly, the Fed's updated forecast suggests that the FOMC could raise rates only twice this year, down from previous estimates of four. On Thursday, the Federal Reserve Bank of New York held the Federal Funds Rate at 0.37%. The effective Fed Funds Rate traded in between 0.35 and 0.50%, as $67 billion in trades were exchanged.
◊ Any rate hikes this year are viewed as bearish for gold, which struggles to compete with high-yield bearing assets in rising rate environments.
◊ Also on Thursday, the labor market remained steady as new jobless claims ticked up by 7,000 to 265,000. At 268,000, the four-week average stayed relatively low.
◊ The U.S. Dollar Index, which measures the strength of the greenback versus a basket of six other major currencies, plunged more than 1% in U.S. afternoon trading to 94.72, falling to a fresh 1-month low.
◊ Dollar-denominated commodities such as gold become more expensive for foreign purchasers when the dollar appreciates.
◊ Silver for May delivery soared 0.791 or 5.16% to 16.015 an ounce.
◊ Copper for May delivery gained 0.58 or 2.60% to 2.292 a pound.   ~ Neal Bhai Reports