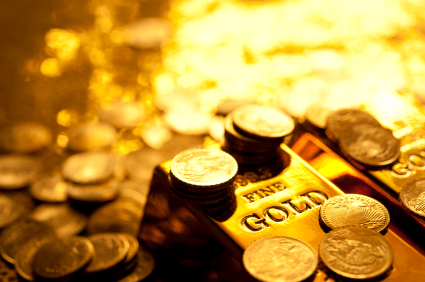 Gold Silver Reports ~ Gold fell to its lowest in almost 2 weeks on Tuesday ahead of a Fed meeting that is expected to give clues on the pace of future U.S. rate rises.
Spot gold fell to $1,225.70 an ounce, its lowest since March 2, in earlier trade and was down 0.2 percent at $1,232.90 by 1309 GMT. U.S. gold futures slid 0.9 percent to $1,233.80 an ounce.
Worries about global growth and financial instability had led investors to reprice prospects for increases in U.S. rates, sending safe-haven gold to a 13-month high last week. But solid readings more recently from U.S. data have rekindled market expectations of further tightening this year.
"One difference from a few weeks ago is that the surprise (from the Fed) would be a rate hike, whereas perhaps a few weeks ago people thought a surprise would be a rate cut," Macquarie analyst Matthew Turner said.
"There has been a shift towards hawkishness again, which is probably pressuring gold a little bit."
The Fed begins its own 2-day meeting on Tuesday.
Further U.S. rate rises could lift the opportunity cost of holding non-yielding bullion.
The dollar was down 0.1 percent against a basket of main currencies, having fallen versus the yen after the Bank of Japan held policy steady as expected at the conclusion of its 2-day policy meeting.
Gold's weakness over the last two sessions followed Friday's brief bounce to a 13-month high after the European Central Bank signalled an end to rate cuts and the euro rose sharply versus the dollar. Gold is highly sensitive to monetary policy and resulting currency moves.
"A relatively deeper correction in the near term would serve as a further test for gold positions that have been put on this year," UBS said in a note.
"We expect the downside to be ultimately contained amid signs that longs have more endurance and indications of lurking interest to buy dips."
Holdings of the SPDR Gold Trust, the world's largest gold-backed exchange-traded fund, fell 1.08 percent to 790.14 tonnes on Monday from 798.77 tonnes on Friday.
Spot silver fell 0.3 percent to $15.29 an ounce, platinum was up 0.6 percent at $958.90 and palladium lost 0.6 percent to $564.15. ~ Neal Bhai Reports