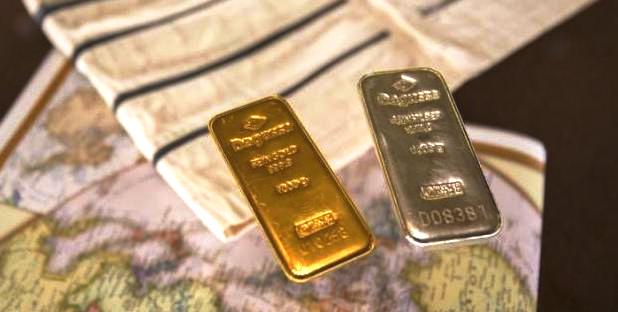 Gold Silver Reports ~ Gold edged up on Monday, as the dollar retreated after weaker-than-expected U.S. data, but stayed close to a 1-month low with investors focused on speeches by Federal Reserve officials that could give more clues on potential interest rate increases.
◊ The dollar fell from its highest in almost two weeks versus a basket of currencies after data showed U.S. consumer spending rose marginally in February and overall inflation retreated. The Commerce Department also downwardly revised 0.1 percent gain in January.
◊ Weaker U.S. data supports the view the Fed would raise interest rates at a gradual pace, weighing on the dollar and in turn helping gold.
◊ Spot gold was up 0.3 percent at $1,219.56 an ounce by 2:47 p.m. ET (1847 GMT), after touching a session low of $1,208.15, its cheapest since Feb. 23. The metal lost 3 percent last week, its biggest weekly loss since November on speculation that the next U.S. rate increase could come as soon as next month.
◊ Liquidity was thin as London and many other gold markets were closed for the Easter Monday holiday.
◊ All eyes are now on Fed Chair Janet Yellen, who is due to speak on the U.S. economy and monetary policy on Tuesday, for any indications on the number and timing of rate hikes this year.
◊ "If she says something tomorrow that implies they are going to hike at the next meeting, then you get volatility," said Michael Matousek, head trader at San Antonio-based U.S. Global Investors
◊ "But I highly doubt that she'll say something that can spook markets tomorrow. She understands what can rattle the market, so she's going to choose her words wisely."
◊ Hawkish comments from several Federal Reserve officials last week put investors on guard for the possibility of at least two rates increases this year, triggering a widespread correction across commodities and bolstering the dollar, the currency in which commodities are denominated.
◊ The market is also awaiting a speech by New York Fed President William Dudley on Thursday and U.S. non-farm payrolls data on Friday.
◊ "A non-farm payrolls number above 200,000 could give the market enough confidence to price in two rate hikes this year, weighing on gold," said Carlo Alberto de Casa, ActivTrades chief analyst.
◊ Inflows into gold exchange-traded funds (ETF) continued, suggesting that some confidence in bullion remained.
◊ Holdings in the SPDR Gold Trust, the world's largest gold-backed ETF, rose to its highest since December 2013 at 26.48 million ounces on Thursday, the latest available data shows..
◊ Slver Spot gained 0.4 percent to $15.20 an ounce, palladium fell 1.4 percent to $565.97 and platinum was down marginally at $944.1 an ounce. ~  Neal Bhai Reports