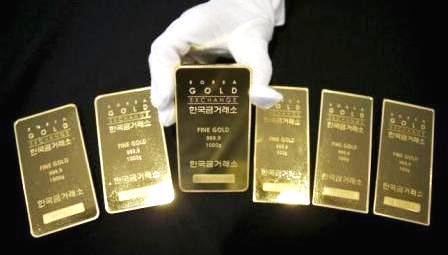 Gold Silver Reports — Gold is heading for the biggest weekly increase in more than a month as investors scaled back expectations for further interest-rate increases in the U.S., raising the appeal of the metal as a store of value.
Bullion for immediate delivery traded at $1,237.07 an ounce by 9:38 a.m. in Singapore for a gain of 1.2 percent this week, the most since the period to March 4, Prices jumped 1.5 percent Thursday.
Gold posted its best quarterly gain in three decades through March as worries about global-growth and market turmoil prompted the FederalReserve to delay further rises in borrowing costs. Traders see a less than 50 percent chance that the Fed will tighten rates even once this year, benefiting gold as it becomes more competitive against interest-bearing assets. Asian-stocks are set for a 3rd weekly drop as part of a global selloff.
"Gold had another strong night overnight, owing to the decline in risk assets," Jordan Eliseo, Sydney-based chief economist at trader Australian Bullion Co., said by e-mail. "It has been re-recognized as a safe haven by the market in the first quarter. The market has a strong base around $1,200, and could well move higher from here." — Neal Bhai Reports