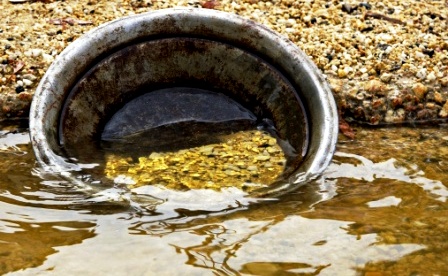 Gold Silver Reports ~ Gold's been on such a tear, even the bulls got left behind.
◊ "Absolutely no one saw this coming," said Ross Norman, chief executive officer of bullion dealer Sharps Pixley, who began his gold career at refiner Johnson Matthey Plc more than 30 years ago. "Forecasts made at the start of the year were out of date within weeks."
Gold for immediate delivery jumped 16 percent in the first three months of the year, the biggest quarterly surge since 1986. The price of $1,231.38 an ounce as of 2:42 p.m. in New York is above all 31 forecasts for the average for 2016 in a mid-January survey by the London Bullion Market Association. Gold futures for June delivery advanced 0.6 percent to settle at $1,235.60 on the Comex in New York.
◊ Investors, defying the timid forecasts, began piling in during January, with gold held in exchange-traded funds growing for the first time in a year this quarter. Investments rose for all but eight days so far this year.
◊ Holdings in ETFs rose 21 percent to 1,761.3 metric tons in the period, the biggest gain in any quarter since the three months ended March 2009, according to data compiled by Bloomberg as of Wednesday. At the same time, trading volumes on the largest futures exchange, the Comex in New York, reached 14.1 million contracts, a record for a first quarter.
◊ Jeffrey Rhodes, who's been trading gold since 1978 in a career that's taken him from New York to London and Mumbai to the Middle East, is one who has.
◊ Now the CEO of Zee Gold DMCC in Dubai, Rhodes recalls how a crash in oil prices in 1986 as U.S. oil magnates fought a price war with Saudi producers set off a huge jump in bullion prices.
◊ "I had my best ever month in 1986, so it was pretty clear in my memory," said Rhodes. "I saw parallels emerging earlier this year." ~ Neal Bhai Reports