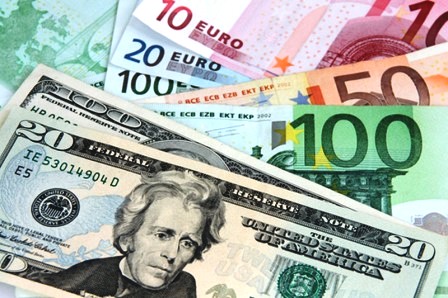 Gold Silver Reports ~ EUR/USD extended sharp gains from the previous session surging to five-month highs, as foreign exchange traders continued to digest a dovish monetary policy decision from the Federal Reserve 24 hours earlier.   
The currency pair traded in a broad range between 1.1206 and 1.1343, before settling at 1.1317, up 0.88% on the session. At session-highs, the euro soared to its strongest level against the dollar since mid-October. The developments may be unsettling for Mario Draghi and his colleagues at the European Central Bank, whose efforts to depress the euro as a means for boosting exports are increasing appearing futile. Since the ECB's Governing Council approved a wide range of easing measures last week, the euro has jumped nearly 3% against the dollar.
EUR/USD likely gained support at 1.0538, the low from December 3 and was met with resistance at 1.1496, the high from Oct. 15.
The euro rose considerably versus the dollar on Thursday, one day after the Federal Open Market Committee (FOMC) maintained the target range on its benchmark Federal Funds Rate at a level between 0.25 and 0.50%. The Fed concluded its two-day March meeting without adjusting rates, amid heightened global financial and economic risks and moderate firming of inflation. It marked the second consecutive meeting the FOMC left short-term rates unchanged, after the U.S. central bank ended a seven-year zero interest rate policy by raising rates 25 basis points in mid-December.
More importantly, the FOMC cut its rate outlook for the next 21 months lowering its 2016 forecast by 50 basis points to 0.88% and 50 basis points by the end of next year to 1.88%. Implicitly, the Fed's updated forecast suggests that the FOMC could raise rates only twice this year, down from previous estimates of four. On Thursday, the Federal Reserve Bank of New York held the Federal Funds Rate at 0.37%. The effective Fed Funds Rate traded in between 0.35 and 0.50%, as $67 billion in trades were exchanged.
The dollar has fallen by more than 8% against the euro bloc currency over the last year when markets awaited lift-off from the Fed.
"In a world with highly-integrated capital markets, monetary policy actions in any country have affects, spillovers to other countries," Fed chair Janet Yellen said at a press conference on Wednesday."That's true of our monetary policy, and it's true of other countries' monetary policies. In part, that shows up through movements in exchange rates, and those movements are a factor that any country needs to take into account in deciding what is the appropriate stance of monetary policy."
"So, the fact that there are these linkages is an important factor in designing a monetary policy. But it does not mean that monetary–US monetary policy is somehow constrained in a way that makes it impossible for our monetary policy to diverge from policies abroad," Yellen added. "And at this point, it's natural that there should be some divergence in our monetary policies. Movements in exchange rates partly reflect that."
Any rate hikes this year are viewed as bullish for the dollar, as foreign investors pile into the greenback in order to capitalize on higher yields.
Also on Thursday, the labor market remained steady as new claims ticked up by 7,000 last week to 265,000, remaining near record lows. At 268,000, the four-week average also stayed relatively low.
The U.S. Dollar Index, which measures the strength of the greenback versus a basket of six other major currencies, fell more than 1% to an intraday low of 94.67, before inching up to 94.77 at the close.    ~ Neal Bhai Reports