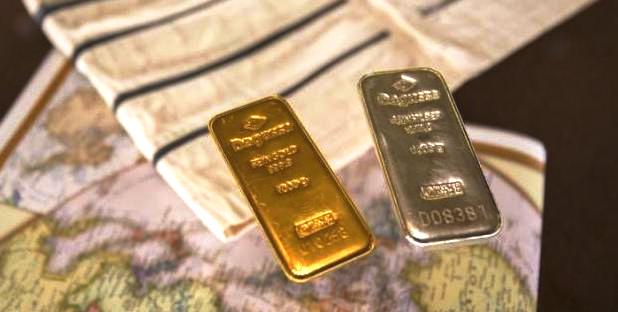 Gold Silver Reports — U.S. equities fell, erasing gains as what is forecast to be the worst American earnings season since the financial crisis gets under way. The dollar tumbled to a nine-month low, boosting commodity prices.
The Standard & Poor's 500 Index climbed as much as 0.7 percent before turning negative in the final half hour of trading. Alcoa Inc. fell in extended trade after the company, which unofficially kicks off the U.S. reporting period, lowered its forecast for global aluminum demand. Banks led European stocks higher as Italy prepared a fund to assist lenders. Oil topped $40 a barrel as a gauge of the dollar versus major peers slumped to its lowest level since June.
"The market lacks enough conviction to move stocks in any one direction for any one amount of time long enough for investors to sink their teeth into and rack up performance," John Stoltzfus, chief market strategist at Oppenheimer & Co. in New York, said by phone. "There is an increased amount of skepticism and concern, mostly around earnings season. It boils down to a market that has to climb a wall of worry and has to earn its gains."
Concern that growth continues to slow even as central banks step up efforts to revitalize the world economy has sapped equities of momentum heading into the first-quarter earnings season. Analysts are projecting profits for S&P 500 companies will contract 10 percent, compared with calls for flat earnings growth at the start of the year. Japanese and European companies also begin reporting this week, with profit among members of Europe's Stoxx 600 Index forecast to shrink in 2016, following earlier calls for earnings to improve.
Stocks
The S&P 500 slipped 0.3 percent to 2,041.99, after falling 1.2 percent last week in the steepest slide since February. Following a tumultuous start to the year that saw the index tumble as much as 11 percent by mid-February, U.S. equities are now almost unchanged amid speculation the losses in January and February were overdone.
Alcoa was down 3.6 percent after hours, with the biggest U.S. aluminum producer reporting below-estimate revenue, while profit exceeded analysts' estimates. JPMorgan Chase & Co., Bank of America Corp. and Delta Air Lines Inc. are among companies scheduled to report this week.
Earnings are declining in 29 of the largest 30 global markets, with the exception being Switzerland, Jonathan Garner, chief Asia and emerging-market equity strategist at Morgan Stanley in Hong Kong, said in a research note dated April 10. The New York-based bank puts the chance of a global recession at 30 percent, according to the note.
"There's clearly some earnings risk in the first quarter," Dennis Debusschere, senior managing director and global portfolio strategist at Evercore ISI in New York, said by phone. "But there are some investors looking into the future, that if global economic growth has hit a bottom and the dollar is less of a headwind, we could have an acceleration in earnings going forward."
Chesapeake Energy Corp. jumped 20 percent after pledging assets to preserve a $4 billion bank line, while hard-disk drive manufacturer Seagate Technology Plc rose 5.3 percent after the shares were rated the equivalent of hold by Cowen Group Inc. National Oilwell Varco Inc. slipped 6.2 percent after cutting its dividend. Health-care and consumer-staple shares led losses in the S&P 500, slipping 0.7 percent.
European shares rose 0.3 percent as measures of banking stocks and commodity producers posted the biggest gains of the index's 19 industry groups. Banco Popolare SC and UBI Banca SpA surged at least 7 percent as Italy's Treasury and central bank officials met with executives of major lenders to discuss setting up a fund to help tackle non-performing loans.
The MSCI Emerging Markets Index gained 0.9 percent, following a 1.1 percent decline last week. Benchmark gauges in Turkey and Russia gained at least 1 percent, while the Hang Seng China Enterprises Index of mainland Chinese companies listed in Hong Kong rose 1.2 percent. China's producer prices increased 0.5 percent last month from February, official data showed Monday.
Peruvian stocks climbed the most since 2008 after two candidates regarded as being market friendly made it to the second round of a presidential vote.
Futures on Asian index were mixed, with contracts on stock gauges in Australia and Hong Kong signaling declines for Tuesday. Yen-denominated futures on Japan's Nikkei 225 Stock Average lost 0.4 percent on the Chicago Mercantile Exchange to 15,710, while contracts traded in Osaka rose 0.5 percent to 15,820 as of 3 a.m. local time.
Currencies
Which tracks the greenback against 10 major currencies, fell 0.4 percent to its lowest closing level since June 22. The dollar's biggest declines were against commodity-linked currencies like the Brazilian real and the South African rand, while it was little changed versus the euro and the yen.
The pound jumped against the euro, posting its biggest gain in a month as stocks recovered. While the 19-nation shared currency fell against 13 of its 16 major peers, sterling appreciated 0.8 percent to 80.13 pence per euro.
MSCI's Emerging Markets Currency Index rose 0.6 percent, leaving it up 3.9 percent this year. South Korea's won strengthened 0.6 percent, the most in a week, while the gains in oil helped Malaysia's ringgit advance for a fourth straight day.
The real rose 2.7 percent against the dollar in a second day of gains nearing 3 percent. A special committee in Brazil's lower house was scheduled to vote Monday on whether to move forward with an impeachment request against President Dilma Rousseff.
Commodities
Crude climbed to a four-month high in London ahead of a meeting in Doha this month where major oil producers will discuss freezing output. Brent futures rose 2.1 percent, erasing a 1.3 percent loss to settle at $42.83 a barrel, while West Texas Intermediate crude rose 1.6 percent to $40.36 a barrel, rebounding from a drop of almost 1 percent.
U.S. natural gas futures slid 4 percent to $1.911 per million British thermal units, the biggest drop in more than two weeks.
Gold rose to its highest level in almost three weeks. Bullion futures for June delivery gained 1.1 percent to settle at $1,258 an ounce. Silver futures advanced on the Comex in New York, while platinum and palladium rose on the New York Mercantile Exchange.
Bonds
Treasuries fluctuated, with yields near the lowest level in two months, as investors weighed the Federal Reserve's plans to raise U.S. interest rates against signs of slowing global economic growth.
Ten-year Treasury rates increased one basis point, or 0.01 percentage point, to 1.73 percent before the U.S. sells $20 billion of the debt on April 13, the second of three coupon-security auctions this week totaling $56 billion.
France hired banks to sell 20-year and 50-year securities in the coming days, the country's debt office said on its website. Argentina may sell bonds with three separate maturities if it taps international debt markets for the first time since a 2001 default. — Neal Bhai Reports