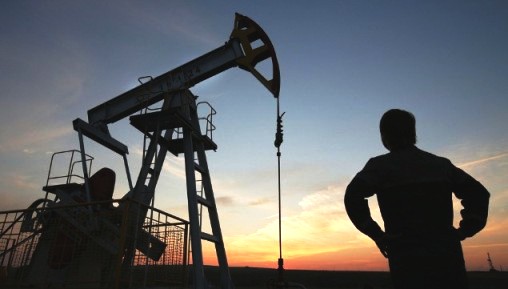 Gold Silver Reports ~ Crude Oil Rates steadied on Thursday, paring losses after a renewed drop in U.S. oil rigs, but analysts and traders said there could be another selloff in the coming week if U.S. crude stockpiles hit record highs again.
◊ Earlier in the day, U.S. crude futures slid 4 percent and Brent below $40 a barrel, extending bearish sentiment from Wednesday when the U.S. government reported a crude inventory build three times above market expectations.
◊ But data later on Thursday from oil services firm Baker Hughes, showing U.S. oil drillers cutting 15 rigs this week after a pause last week, boosted sentiment. The U.S oil rig count now stands at 372, the lowest since November 2009.
◊  U.S. crude's front-month contract CLc1 settled down 33 cents at $39.46 a barrel, recovering from a session low of $38.33. For the week, it rose two cents, finishing up for a sixth straight week.
◊  Brent's front-month LCOc1 settled down 3 cents on the day at $40.44 a barrel, after an earlier drop to $39.22. For the week, it fell 76 cents, or nearly 2 percent, its first decline in six weeks.
◊  Despite the stumble, oil prices remain about 50 percent higher from multi-year lows hit in January from glut worries. While declining U.S. oil output and strong gasoline demand were responsible for some of that recovery, the bulk of it was powered by major producers' plans to freeze output at January's highs.
◊  While this week's drop of oil 15 rigs was not a game changer to the market, it offered a reprieve to worries that there was a daily glut of some two million barrels in crude.
◊  "After last week's increase of one rig, some may have assumed that the continuing decrease in rig counts was finally abating," said Pete Donovan, broker at Liquidity Futures in New York. "Apparently not so."
◊  Others braced for further price weakness from more U.S. inventory builds.
◊  "We see limited bullish assistance to the complex from a fundamental vantage point," said Jim Ritterbusch of Chicago-based oil consultancy Ritterbusch & Associates.
◊  Shares on Wall Street .SPX, trading in tandem with crude most of this year, also clawed back from the lows of the day, helping oil recover.
◊  The dollar .DXY, meanwhile, erased early gains that made oil and other commodities denominated in the greenback less affordable to holders of the euro and other currencies.
◊  Volumes in oil were thin ahead of the Good Friday and Easter break, making it easier to retrace losses after sentiment swung. ~ Neal Bhai Reports