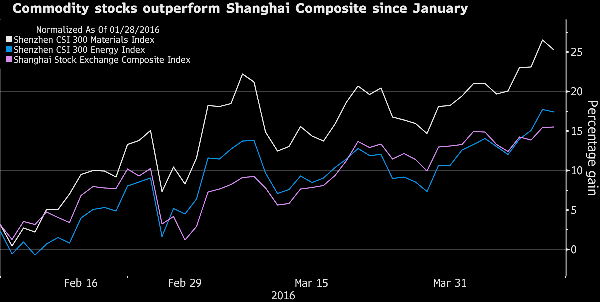 Gold Silver Reports — China's stocks closed at a three-month high, led by technology companies, on signs of a recovery in the world's 2nd-largest economy.
The Shanghai Composite Index ended the day 0.5 percent higher after swinging between gains and losses. Beijing Ultrapower Software Co. and Haitian Flavouring & Food-Company Ltd. paced advances in technology and consumer shares with gains of at least 2.8 percent. A rebound in materials and energy companies, among the best performers in 10 industry groups since this year's low in January, faltered as metal and oil prices slumped.
China's benchmark stock gauge has climbed 16 percent since Jan. 28, paring its loss for the year to 13 percent, on signs of stabilization in the world's second-largest economy and speculation of buying by state-backed funds. Exports jumped in March, data Wednesday showed, before the government releases quarterly economic data on Friday.
"China's economy is now in recovery mode, so the rebound in stocks has fundamental support, although we'll see some retracement," said Wei Wei, an analyst at Huaxi Securities Co. in Shanghai. "Commodity and energy stocks did poorly over the past couple of years, so news on economic stabilization and government efforts to limit overcapacity will help them recover valuations first."
The Shanghai Composite ended the day at 3,082.36. The CSI 300 Index rose 0.4 percent, while Hong Kong's Hang Seng China Enterprises Index added 0.5 percent and the Hang Seng Index gained 0.9 percent.
Gold Retreat
China Eastern Airlines Corp., the nation's second-largest carrier, jumped 2.1 percent after saying that its first-quarter net income probably rose as much as 70 percent from a year earlier. Air China Ltd. and China Southern Airlines Co. both climbed 1.3 percent.
Shandong Gold Mining Co. and Zhongjin Gold Corp Ltd. fell more than 2 percent amid a three-day drop in gold prices. Zijin Mining Group Co. lost 1.5 percent.
China's statistics bureau is scheduled to release a range of economic data on Friday. Industrial production probably rose 5.9 percent in March, accelerating from a growth of 5.4 percent in the January-February period, according to the median estimate in a Bloomberg survey. Fixedasset investment growth probably quickened to 10.4 percent in the first quarter.
Economic Recovery
The foundations for China's economic improvement aren't solid as the global-recovery is weak, Premier Li Keqiang was cited by China CentralTelevision as saying during a meeting with visiting Nigerian President Muhammadu Buhari in Beijing,
Margin traders increased holdings of shares purchased with borrowed money for a second time this week on Wednesday, with the outstanding balance of margin debt on the Shanghai Stock Exchange rising to 514.2 billion yuan ($79.3 billion) for the highest level since Feb. 24.
China stepped up intervention in its financial markets after stocks extended last year's $5 trillion selloff and the yuan fell to a five-year low. The Shanghai Composite rose 12 percent last month amid suspected buying by state-backed funds in some of the nation's biggest companies.  — Neal Bhai Reports