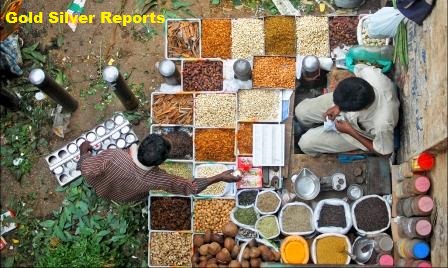 Gold Silver Reports ~ The short covering in turmeric futures (Apr) may remain capped as the counter is likely to face resistance near 8545 levels.
In Tamil Nadu, turmeric traders have announced a 10-day break in procurement at four centres in the district later this month & it will reopen on April 1. Secondly, the turmeric markets in the Northern States are also witnessing dull business.
◊ Cardamom futures (Apr) is expected to consolidate in the range of 735-750 levels. Protracted dry spell without any summer showers so far in the cardamom growing tracts has changed the market sentiments to bullish. The current season harvesting has almost come to an end in all the major estates. At the spot markets, prices of graded varieties (Rs./kg): 8mm bold good colour 950; 7-8 mm 680; 6-7 mm 550; below 6 mm: 500.
◊ Jeera futures (Apr) is likely to trade in the range of 15280-15650 levels. The fundamentals are changing, which may give negative cues to the counter. The recent seizure in the US of Khapra beetleinfested cumin or jeera consignments from India may hit exports of the commodity. Exporters reckon the shipments are likely to come down by nearly half in the current year.
◊ Coriander futures (April) would possibly with negative bias in the range of 7000- 7200 levels. The spot prices are under pressure due to increased arrivals from ongoing harvesting season while concerns of crop damage in the market may support the buyer's sentiments.
◊ Soybean futures (Apr) is expected to fall towards 3630 levels. India's exports of oilmeal are dropping as millers are staying away from crushing expensive soybean amid lower prices of products such as oil and meal. Shipments to countries such as Japan, Iran, Thailand, Taiwan and Vietnam dropped as they sourced cheaper oilmeal from South America and China, upsetting India in its traditional southeast Asian markets.
◊ Mustard futures (Apr) is likely to rally towards 4250 levels, if surpasses the resistance near 4175 levels. In Jaipur and Kota prices appreciated on stockists' buying. In Alwar, Bharatpur and Kherli prices went up on higher demand from upcountry markets.
◊ Refined soy oil futures (May) is likely to consolidate in the range of 640-650 levels. Activities were limited and the volumes with refineries at the spot markets were down as stockiest stayed away. CPO futures (Apr) is may maintain its upside momentum taking support near 538 levels. Malaysian palm oil futures dipped on Wednesday for their first fall after three straight days of gains, as the market weakened on a stronger ringgit.
◊ The ringgit gained 1.4 percent to reach 3.9380 against the dollar, its strongest level in seven months, rising along with other emerging Asian currencies on the possibility of slower interest rate hikes in the wake of the Federal Reserve's cautious stance on monetary policy tightening. The palm oil contract for June delivery on the Bursa Malaysia Derivatives Exchange fell 1.1 percent to 2,749 ringgit ($698) per tonne, its sharpest fall in nearly a month.
◊ Sugar futures (May) is expected to trade higher towards 3650-3680 levels. It is estimated that India's sugar production will fall further to 25.6 million tonnes (mt) according to the government's revised estimates. Last year, overall sugar production was 28.3 mt. Sugar market ruled firm extending its bullish trend on back of firm mill tender rates amid higher physical demand. On the Vashi market, prices went up by Rs.10-20 a quintal at the higher side while ruled steady at the lower end.
◊ Chana futures (Apr) would trade with an upside bias & test 4600 levels. Both pulses and pulse seeds are witnessing uptrend in Indore mandis with demand outstripping arrivals. Due to closure of mandis on account of Holi in the past few days, arrival of pulse seeds in Indore mandis has declined, even as buying is on the rise.
◊ Kapas futures (Apr) is likely to take support near 750 levels. Attack of pink bollworms coupled with erratic rainfall, especially unseasonal rains, has had serious adverse impact on cotton yield in Gujarat. With an estimated drop of 25%-30%, cotton yield in the state, during 2015-16, is expected to reach the lowest level in last 10 years. According to the latest estimates of the Cotton Advisory Board (CAB) under union textile ministry, India's largest cotton producer state is likely to witness a cotton yield of 621 kg per hectare, the lowest since 2004-05. This estimate is based on an expected production of 101 lakh bales (1 bale is equivalent to 170 kg). ~ Neal Bhai Reports