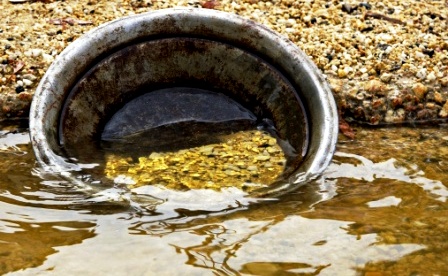 Gold Silver Reports – Vedanta Ltd has won India's first-ever auction of a Gold mine, a state government official said, as the nation opens up the sector to private companies to curb overseas purchases of the metal that cost it $36 billion last year.
Vedanta, a unit of London-listed Vedanta Resources Plc, beat three other bidders in the auction of the Baghmara mine in Chhattisgarh, the head of the state's Directorate of Geology and Mining, Reena Kangale, told Reuters on Saturday.
The company quoted the highest bid of 12.55 percent of the Indian Bureau of Mines price of 74,712 rupees ($1,087) a troy ounce, Kangale said, adding she expected mining for potential reserves of about 2,700 kilograms to begin in two years.
A troy ounce is equivalent of 31.10 grams.
In a statement, Vedanta said the block measuring 6.08 square kilometres required extensive exploration and that the process will commence in "due course".
India's insatiable appetite for Gold (Sona) has already prompted the government to raise import duties and launch a scheme aimed at mobilising a pool of over 20,000 tonnes of the metal lying idle in homes and temples.
Still the government has failed to curb imports by the world's second-biggest consumer, where Gold (Sona) is regarded as the highest form of gift for gods and humans alike.
The absence of local production has scuppered efforts further.
Federal Mines Secretary Balvinder Kumar last week told Reuters the government planned to auction at least three Gold (Sona) mines in 2016. – Neal Bhai Reports