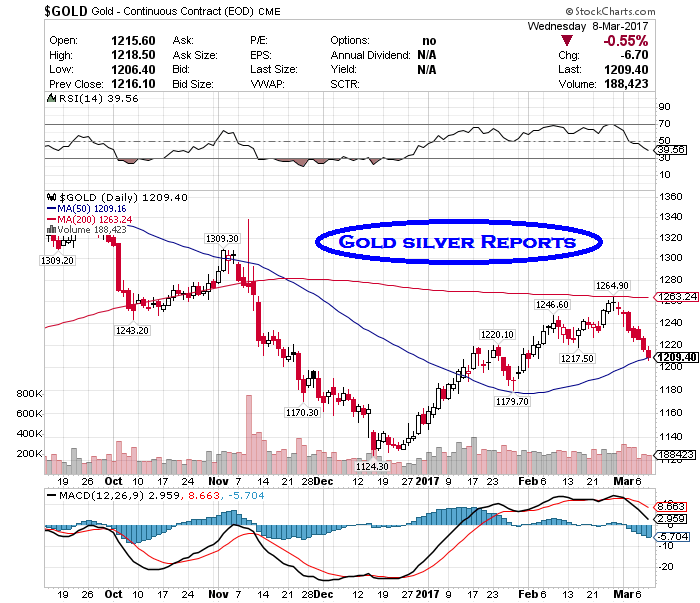 Gold Silver Reports — Gold had maintained a defensive tone in Europe and a much stronger than expected ADP employment release triggered a fresh round of selling pressure as global bond yields moved higher.
Gold prices briefly moved higher in US trading on Tuesday, but momentum quickly faded and there was a retreat back to four-week lows near $1,215. There was a steady dollar tone while underlying weakness in commodities had a negative influence on precious metals.
Consolidation dominated in Asia on Wednesday with the Chinese trade data having only a limited impact. There were also no major developments surrounding the Euro-zone political situation.
As the dollar ticked stronger and US bond yields also edged higher, gold drifted to lows below $1,212 into the US open.
The US ADP employment report was much stronger than expected with a February increase of 298,000 compared with market expectations of near 190,000, The January data was also revised higher to 261,000 from the original estimate of 246,000.
The data boosted overall confidence in the economic outlook, especially with employment gains across all sectors.
Given that markets assumed only a very weak February employment report could derail a rate hike at the March meeting, the data also reinforced already strong expectations of a rate hike.
There was also some speculation that overheating concerns could force the Fed to tighten at a faster pace over the next few months to combat overheating and possibly raise rates four times this year.
US 10-year yields moved higher with highs above 2.57% and close to December 2016 highs while 2-year yields strengthened to above 1.365%, the highest level for over 8 years.
USD/JPY also pushed sharply higher with a move above the 114.50 level as the trade-weighted index broke above the 102.00 level.
The combination of a strong US currency and renewed upward pressure on yields put renewed downward pressure on gold with a slide to one-month lows below the $1,210 level.
Gold is liable to remain on the defensive into Friday's employment report unless there is a sharp setback for the US dollar or heavy selling pressure on equities. — Neal Bhai Reports
US Employment Data Triggers Fresh Slide In Gold | Gold Silver Reports | Neal Bhai Reports