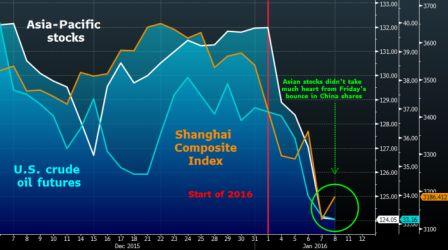 Gold Silver Reports ~ Stocks extended last week's global rout, oil dropped and the South African rand led a slump in emerging-market currencies as China's efforts to stabilize the yuan failed to halt losses in equities.
~The Shanghai Composite Index tumbled more than 5 percent to the lowest in almost four months, despite rallies in the yuan in onshore and offshore markets. Europe's benchmark stock gauge fell for a fourth day. The rand tumbled 9 percent to a record before paring its slide. Oil sank to its lowest since 2003 and copper futures declined.
Volatility in Chinese markets has sapped risk appetite globally, sending equities worldwide down the most in more than four years last week and hobbling commodities. While data Friday showed U.S. payrolls surged in December, the focus has now returned to China after the country posted a record 46th monthly decline in producer prices. Nobel-prize-winning economist Joseph Stiglitz said the nation isn't facing a "cataclysmic" slowdown and the turmoil was more about badly designed stock-market circuit breakers.
"The market is concerned about China's financial stability," said Matthew Sherwood, head of investment strategy at Perpetual Ltd. in Sydney, which manages about $21 billion. "People are also quite nervous about the Chinese economic outlook. China is certainly slowing on a very gradual path down. A lot of people are fearing a hard landing is in play, but that's not our central scenario."
Stocks
~The MSCI All-Country World Index slid 0.3 percent to a four-month low as of 8:05 a.m. London time, as the Shanghai Composite Index tumbled 5.3 percent and the HangSeng Index dropped 2.8 percent in Hong Kong. China cut trading short on two days last week as selloffs in equities triggered a new circuit breaker, that was then abolished.
With Japan closed for a holiday, futures on the Nikkei 225 Stock Average retreated 1.4 percent in Singapore, while those on the S&P 500 rose 0.2 percent. The largest U.S. exchange~traded fund tracking Chinese shares tumbled 13 percent last week, exceeding the 10 percent slide in the Shanghai Composite. The Philippine StockExchange Index slumped 4.4 percent to enter a bear market after losing more than 20 percent from its record high in April.
"It's Halloween in January," Astro del Castillo, managing director at First Grade Holdings Inc., said in Manila. "The red flags are all there for investors to realign their portfolios."
Singapore's Straits Times index lost 2.1 percent, the Jakarta Composite index slumped 1.9 percent and the Kospi index in Seoul dropped 1.2 percent. Australia's S&P/ASX 200 Index fell 1.2 percent, led by mining stocks and energy producers.
Currencies
~The rand was down 1.5 percent at 16.56 per dollar, after rebounding from its steepest intraday slump since October 2008. The decline probably came after "a combination of stops and margin calls caused mass capitulation" by Japanese retail investors, Macquarie Bank Ltd. wrote in a report.
The Chinese yuan climbed 0.2 percent to 6.5795 after the central bank set the reference rate little changed for a second day, following an eight-day run of weakening. The yuan also gained 0.6 percent in Hong Kong at 6.6402 per dollar. The cost of borrowing yuan in Hong Kong jumped by the most on record, reflecting tighter supply of the currency following suspected intervention by the Chinese central bank. The overnight Hong Kong Interbank Offered Rate surged 939 basis points to 13.4 percent.
The won dropped 1 percent after Pyongyang raised the risk of war as South Korea stepped up propaganda broadcasts over the border following last week's surprise nuclear test from North Korea. The Russian ruble dropped 0.9 percent and the Turkish lira lost 0.2 percent. The euro dropped 0.3 percent to $1.0886.
Bonds
Australian bonds led gains in Asia, with 10-year yields down two basis points to 2.76 percent, falling for the fifth time in six sessions. Yields on similar-maturity New Zealand debt dropped four basis points to 3.38 percent.
Bond risk in Asia jumped to the highest in more than three months. The Markit iTraxx Asia index of credit-default swaps rose five basis points to 152, according to prices from Nomura Holdings Inc. That leaves it set for the highest close since Oct. 5, according to prices from data provider CMA.
Commodities
~China's slowdown adds to concerns over a global glut in oil. West Texas Intermediate crude fell a sixth straight day, losing 2.2 percent to $32.45 a barrel, after sliding 10.5 percent last week. Analysts from Nomura Holdings Inc. to UBS Group AG predict oil may fall to near $30 a barrel.
Copper futures due in March lost 1.9 percent in London, while gold climbed 0.1 percent, rising for the fifth time in six days. ~ Neal Bhai Reports