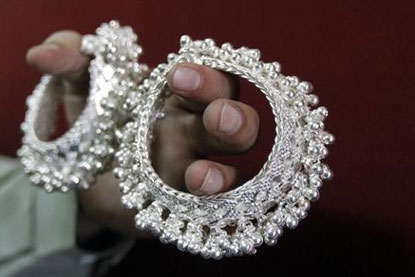 Gold Silver Reports ~ Silver on MCX settled unchanged at 37864 as investors sought assets seen as havens from risk after deadly bomb attacks hit Brussels airport and a rush-hour Metro train in the Belgian capital.
◊ ISIS claimed responsibility for the attacks which killed at least 30 people, triggering security alerts across Europe that brought some cross-border traffic to a halt. Haven buying sparked by the news helped offset comments from Atlanta Fed President Dennis Lockhart that the US may be in line for an interest rate rise as soon as next month.
◊ Chicago Fed President Charles Evans said as long as inflation is "under running" the Fed's 2% target, there is time to assess the global risks and hold off on raising rates again, as it is critical to get inflation up and even risk going above that level. While it is true the economy is close to full employment, with unemployment at 4.9% and expected to fall further this year, "we have room to see how this plays out," Evans said in a speech to the City Club of Chicago. Evans, who is not a voter on the policy-setting FOMC this year, said the FOMC's "cautionary pause" after the initial rate increase in December was the appropriate response to the "bumpy" start to 2016 and the risks to global economic and financial conditions.
◊ The US central bank surprised markets last week by cutting its rate hike projections more than expected, down from four to two in 2016, citing the potential impact from weaker global growth and financial market turmoil on the US economy. Technically market is getting support at 37150 and below same could see a test of 37434 level, and resistance is now likely to be seen at 38385, a move above could see prices testing 38850. ~ Neal Bhai Reports