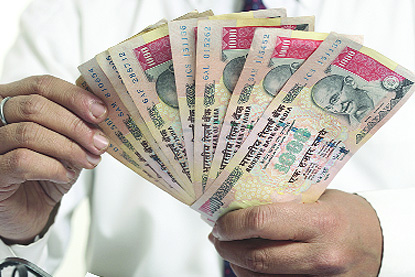 Gold Silver Reports ~ Indian central bank Governor Raghuram Rajan oversaw the biggest jump in currency reserves among major developing nations and he's not afraid to use them to help the rupee.
In a sign of intervention, the holdings fell $2.8 billion in the 2 weeks ended Jan. 8 to $326.4 billion. Rajan may spend up to $20 billion in 2016 to anchor the rupee around 65 per dollar, according to Bank of America Merrill Lynch estimates. A survey of strategists by Bloomberg sees the currency holding steady this quarter, while options signal just a 40 percent chance it will breach the recordlow of 68.845 per dollar by March 31.
~"We continue to expect the Reserve Bank of India to intervene to protect the rupee in case of an emerging-market selloff," said Indranil Sen Gupta, a Mumbai-based economist at Bank of America Merrill Lynch. "Governor Rajan has followed an extremely consistent foreign-exchange policy."
The rupee slumped to the lowest since September 2013 last week as China's market turmoil sparked a global selloff, reviving memories of the currency's tumble to the unprecedented low in August that year. Rajan said when China weakened the yuan last August that he would use reserves to stem rupee swings and wrote in a Jan. 6 opinion piece for Project Syndicate that nations need to avoid "beggar-thy-neighbor policies" such as competitive devaluations.
Under Rajan's leadership, India's currency reserves have swelled from a three-year low in September 2013 as he spurred dollar inflows by offering discounted currency swaps to banks. The stockpile climbed 11 percent last year, the biggest increase in the BRIC group of the four largest emerging markets that also includes Brazil, Russia and China. The two-week decline is the steepest for such a period since September 2015.
Rupee-denominated sovereign debt returned 8.1 percent last year and 16.5 percent in 2014, the best performance among major Asian markets for both the periods, Bloomberg Indexes show, as sliding Brent crude prices helped slow inflation and improve publicfinances for India, a net oil importer. Globalholdings of local government and corporate notes increased by 505 billion rupees last year after surging 1.67 trillion rupees in 2014, with asset managers such as Pacific InvestmentManagement Co. and Pine~Bridge saying they plan to buy more of the securities.
New Year
Renewed concern that China is headed for a hard landing has triggered losses in developing-nation stocks and exchange rates this year, with the rupee sliding 2.2 percent since Dec. 31. Worries about the health of Asia's largest economy cast a pall over investors worldwide as policy makers in Beijing fight to prevent a vicious cycle of capital outflows and currency weakness that saw the yuan slide to a five-year low earlier this month.
The Indian currency's one-month implied volatility, a gauge of expected swings used to price options, has surged 111 basis points in January, set for its biggest monthly increase since August. The measure plunged 459 basis points in the last two years. Rajan and his colleagues at the central bank have repeatedly said the RBI intervenes in the foreign-exchange market to curb swings and doesn't target any particular rupee level.
"If we do see further weakening of the yuan, there's no doubt that other Asian currencies will weaken along with it," said Divya Devesh, Standard Chartered Plc's Asian foreign-exchange-strategist in Singapore. "This kind of volatility is never good for sentiment, and risk assets tend to underperform in such times."
No Repeat
The rupee will end this quarter at 67 per dollar, according to the median estimate in a Bloomberg survey. That will be 0.9 percent stronger than its close of 67.6050 on Friday. ABN Amro Bank NV this month predicted it to strengthen to 66. The currency weakened 4.7 percent in 2015, capping a fifth straight year of declines.
The central bank said ahead of last month's U.S. interest-rate increase that it will step into in the exchange-traded derivatives market "if required," widening the instruments it uses for intervention.
"The markets have confidence that Rajan won't allow a repeat of 2013," said Amit Agrawal, a currency strategist at Societe Generale SA in Bengaluru. "Though the rupee will come under pressure as emerging markets face a selloff, given a proactive central bank and much improved economic fundamentals, it will be among the least impacted currencies. The RBI will intervene in the market to control the pace of depreciation." ~ Neal Bhai Reports