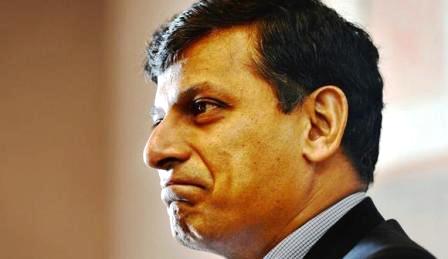 Gold Silver Reports → India's central bank lowered its key interest rate for the first time in six months and said it would look for more room to ease as it watches monsoon rains.
Governor Raghuram Rajan cut the benchmark repurchase rate to 6.5 percent from 6.75 percent, the Reserve Bank of India said in a statement in Mumbai on Tuesday. That's the lowest since March 2011. The move was expected by 36 of 42 economists, while four predicted a reduction to 6.25 %. Two saw no change.
"The stance of monetary policy will remain accommodative," Rajan said in the statement. "The Reserve Bank will continue to watch macroeconomic and financial developments in the months ahead with a view to responding with further policy action as space opens up."
Along with slowing price pressures, Prime Minister Narendra Modi's move to narrow the budget deficit in February opened room for Rajan to join Indonesia and Europe in easing policy. Water reservoir levels, global oil prices and a planned pay raise for civil servants will determine if more rate cuts are possible.
Key points from the statement:  
♦ Inflation to decelerate modestly and remain around 5 percent through March 2017
♦ Inflation risks include monsoon, oil price, civil servant pay hike; downside pressures include tepid global demand, effective food management, fiscal consolidation
♦ Gross-value added growth projection for year through March 2017 retained at 7.6 percent
♦ Policy rate corridor narrowed from 100 basis points to 50 basis points; marginal standing facility rate reduced by 75 basis points to 7 percent, while reverse repo rate increased by 25 basis points to 6 percent
♦ Minimum daily maintenance of the cash reserve ratio reduced to 90 percent of requirement from 95 percent
♦ RBI intends to lower average ex ante liquidity deficit to a position closer to neutrality
♦ RBI to redefine definition of bank branches, explore licenses for differentiated bank
♦ "It is accommodative through the rate front and by taking a positive view on liquidity, it is positive for the bond markets," said Radhika Rao, an economist at DBS Bank Ltd. in Singapore.
♦ The rupee weakened 0.2 percent to 66.3425 a dollar as of 12:27 p.m. in Mumbai, and the benchmark stock index was trading 1.4 percent lower. The yield on the 10-year sovereign bond rose 2 basis points to 7.43 percent after earlier falling as low as 7.34%.
Better Transmission
Rajan praised the government's moves to create a monetary policy committee, stick with a plan to narrow the fiscal deficit and boost the rural economy. He also said that the reduction in small-savings rates, changes to the liquidity framework and a new method for commercial banks to calculate rates "should improve transmission and magnify the effects of the current policy rate cut."
"Given weak private investment in the face of low capacity utilization, a reduction in the policy rate by 25 bps will help strengthen activity and aid the government's initiatives," Rajan said in the statement.
Rajan has now cut rates five times since January 2015. His scope for more easing is limited, mainly due to the risk of a third straight year of below-average rainfall. The June-September monsoon waters more than half of India's farmland.
FX Swaps     
By the end of September 2016, clarity will emerge on the state of the monsoon, as well as the magnitude of pressure on the exchange-rate as emergency measures taken three years ago begin to expire.
In 2013 — soon after Rajan took office — he'd sold about $23 billion of discounted foreign-currency swaps to prop up the rupee that was at a record low. These start maturing in September, indicating the possibility of outflows unless the swaps are rolled over.
The RBI expects a "very low" rollover rate; however, it is fully covered through forward dollar purchases, Rajan said at a briefing in Mumbai on Tuesday.
"Moreover, the Reserve Bank will monitor developments closely to contain any unanticipated market volatility associated with the repayment," the authority said in its statement. → Neal Bhai Reports