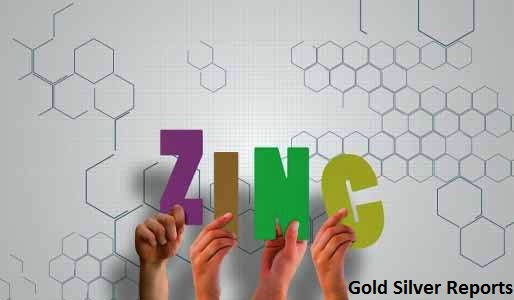 Gold Silver Reports — Technically MCX Zinc is under long liquidation as market has witnessed drop in open interest by 9.27% to settled at 4335 while prices down 3 rupees.
Now MCX Zinc is getting support at 180 and below same could see a test of 178.10 level, And resistance is now likely to be seen at 186.6, a move above could see prices testing 189.  
Zinc on MCX settled down -1.61% at 183.65 tracking weakness from LME Zinc which fell to a one-week low, down 1.5 percent at $2,814 a tonne despite a spate of mine disruptions.
A 3-1/2-week strike at Noranda Income Fund's zinc processing facility in Quebec is showing no signs of ending, with no talks set between workers and management. Noranda Income Fund said on Thursday zinc output at its Quebec plant, the second-largest in North America, was at 50-60 percent of normal operating levels as a five-and-a-half week long strike dragged on.
Yesterday metals prices pulled back from a session high after US trade weighed by a rise in the dollar, as new home sales data confounded expectations while initial jobless claims rose faster than expected. The Commerce Department said on Thursday new home sales increased 6.1 % to a seasonally adjusted annual rate of 592,000 units last month compared to expectations of a 0.7% increase to 565,000 units.
Elsewhere, initial jobless claims increased by 15,000 to 258,000 in the week ending March 18 from the previous week's revised total of 243,000 against the market expectations of a drop by 1,000 to 240,000. Meanwhile, investors continued to monitor events on Capitol Hill, ahead of a key House vote on a healthcare bill to repeal and replace Obamacare. — Neal Bhai Reports
MCX Zinc Intraday Support Level at 180 | Gold Silver Reports