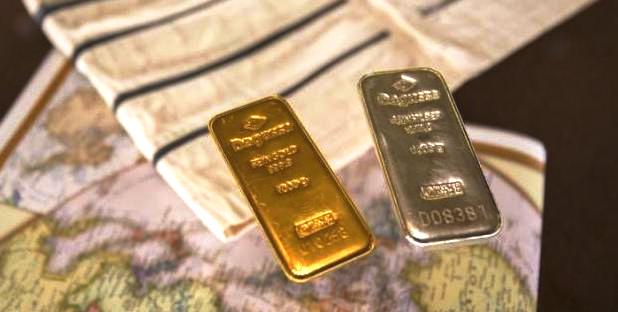 Gold Silver Reports ~ Gold bounced back on Monday, inching closer to last week's 13-month high as the dollar remained under pressure ahead of the U.S. Federal Reserve's policy meeting.
The U.S. dollar was at one-month lows against a basket of major currencies with the Fed seen almost certain to stand pat at this week's policy review.
Spot gold had risen 0.5 percent to $1,254.70 an ounce by 0212 GMT, while U.S. gold eased 0.3 percent to $1,256 an ounce.
The main focus is the U.S. central bank's policy meeting on March 15-16, after it lifted rates for the first time in nearly a decade in December.
Investors in the precious metals market are also looking at a Bank of Japan meet.
The BOJ's policy board is set to discuss this week whether to exempt $90 billion in short-term funds from its newly imposed negative interest rate, people familiar with the matter said, after the securities industry warned that investment money would be driven into bank deposits.
"We have two central bank meetings this week as the BOJ commence a two-day meeting today and the FOMC announce their interest rate decision on Wednesday," said MKS Group trader Sam Laughlin.
Support at $1,235 should keep the metal buoyant leading into the Fed announcement, while $1,275-$1,280 will likely cap any moves higher, the trader said.
After rolling out bold measures to boost the euro zone economies, including increased asset-buying and a deeper cut to deposit rates, ECB President Mario Draghi on Thursday signalled there would be no further rate cuts.
The relatively weak dollar and a repricing of expectations for U.S. interest rate rises have helped gold rebound by more than 18 percent this year.
Bullion regained its role as a shelter for risk-averse investors, in the face of tumbling equities and fears of a global economic slowdown.
Hedge funds and money managers increased their bullish position in COMEX gold to the highest in 13 months in the week to March 8, U.S. Commodity Futures Trading Commission data showed on Friday, as safe-haven buying lifted prices to the highest since February 2015.
Physical gold demand slowed in top consumer China last week, while a strike by jewellers protesting against the imposition of a tax curbed demand in No. 2 market India. ~ Neal Bhai Reports