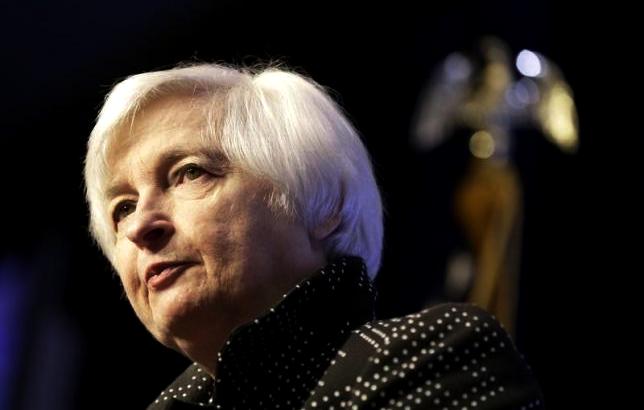 Gold Silver Reports ~ Federal Reserve Chair Yellen will defend the U.S. central bank's 1st rate hike in a decade and likely insist that further rises this year remain on track, albeit at a slower pace, when she addresses Congress on Wednesday.
* Yellen, who is certain to be grilled by lawmakers on whether the economyreally is ready for higher rates, will point to continued strong jobs growth even as financial markets have all but priced out any rate hikes this year and as signs of stress in the global financial system have re-emerged amid volatile markets.
* The Fed Chair also is likely to find herself in heated exchanges with law~makers over the bank's perceived secrecy, with presidential candidates from both sides of the aisle now taking regular shots at the Fed on the campaign trail.
"I think that markets probably have over-reacted to the sense that the Fed won't raise rates any time soon," said Vincent Reinhart, visiting scholar at the AmericanEnterprise Institute and former head of the Fed's monetary affairs division.
The House Financial Services Committee hearing is set for 10 a.m. EST (1500 GMT) on Wednesday, followed on Thursday at 10 a.m. EST by a Senate Banking Committee hearing.
* U.S. growth slowed to 0.7 percent rate in the fourth quarter as weak globaldemand weighed on the economy. But the housing sector strengthened, unemployment fell to 4.9 percent last month and, in a relief for the Fed, wages jumped in January by the most in a year.
Vice Chair Stanley Fischer and other Fed officials have recently backed off predictions of about four rate hikes this year, noting that plunging oil prices mean U.S. inflation could take longer to rise to a 2 percent goal.
But policy~makers have stressed that it is too soon to scrap forecasts for continued U.S. strength in 2016. Some have noted that a similarly severe market selloff in August and September did not derail the economy as much as initially feared.
"September is … a case where there were tighter financial conditions, and they didn't last that long and then we moved off (zero rates)," Cleveland Fed President Loretta Mester, a voter on Fed policy this year, said last week.
The Fed overcame deep market skepticism that it would initiate a hiking cycle when it pulled off its first rate rise in almost a decade in December last year.
CRITICISM FROM LEFT AND RIGHT
At a twice-yearly appearances before Congress, the Fed chair is often peppered with barbed questions about the central bank's effectiveness, regulatory chops and commitment to congressionally set goals, both from Republicans like House Financial Services Chair Jeb Hensarling as well as Democrats like Elizabeth~Warren, who sits on the Senate Banking Committee.
Some of the top presidential candidates, including Republican Senator Ted Cruz and Democratic Senator Bernie Sanders, are calling for major reforms to the Fed.
All of that could complicate things for Yellen as she tries to keep alive the prospect of further rate rises even as she acknowledges the threat posed by a slowing global economy.
"We must not forget, after all, that despite the financialmarket rout and the pain in the mining and manufacturing sector, the Fed has gotten closer to meeting both of its mandates," said Harm Bandholz, chief U.S. economist at Unicredit, after data on Tuesday showed job openings surged in December. ~ Neal Bhai Reports