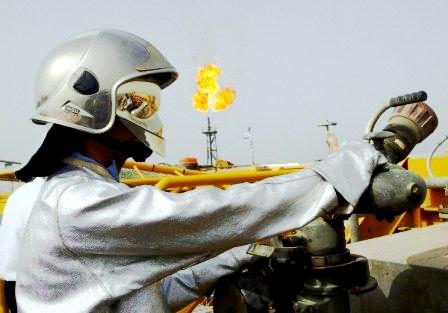 Gold Silver Reports ~ Stocks across the Middle East tumbled as the easing of sanctions against Iran raised the prospect of a surge in oil supplies to a market already reeling from the lowest prices in more than a decade. Shares in Tehran gained.
Saudi Arabia's Tadawul All Share Index dropped 5.4 percent to its lowest level since March 2011. Abu Dhabi's ADX General Index fell into a so-called bear market. which tracks 200 of the 6 nation Gulf Cooperation Council's biggest companies, traded at 9.5 times estimated 12-month earnings, the lowest in almost seven years. Iran's TEDPIX Index climbed 0.9 percent, according to data on the bourse's website, extending Saturday's 2.1 percent advance.
Iran, home to almost 10 percent of the world's proven oil reserves, is starting preparations to boost exports after the United Nation's nuclear agency on Saturday said the country has complied with the terms of an international agreement to curb its nuclear program. That threatens to put further pressure on prices, hurting the oil-dependent economies of the GCC.
"Iranian oil supply will come to the market as early as today or tomorrow," said Nayal Khan, the Riyadh-based head of institutional equities sales trading at Saudi Fransi Capital. "The market's recovery will depend on whether we can get oil back above $30."
Oil Pressure
Iran is targeting an immediate increase in shipments of 500,000 barrels a day, Amir Hossein Zamaninia, deputy oil minister for commerce and international affairs, said on Sunday. It plans to add another half million barrels within months.
Concern that Iran may exacerbate the global supply glut sent Brent crude, a benchmark grade for more than half the world's oil, to a new 12-year low on Friday, helping to spur a global stock rout. The Standard & Poor's 500 Index fell to the weakest level since Aug. 25 in the worst start to a year for U.S. equities on record. Emerging-market stocks posted a third straight weekly decline, dropping to the lowest level since 2009.
The countries of the GCC account for about 30 percent of the world's proven oil reserves.
Company Earnings
Saudi Arabia's Al Rajhi Bank and Saudi Basic Industries Corp., one of the world's largest chemicals manufacturers, were among the biggest contributors to the drop on the Tadawul, losing 2.4 percent and 3.7 percent, respectively.
The gauge has tumbled 35 percent over the past year as the slump in oil has hurt company profits linked to government spending. Oil revenue accounts for more than 70 percent of the kingdom's income.
Saudi Arabian Fertilizer Co. retreated 6.2 percent to the lowest level since November 2009 after its fourth-quarter net income halved to 379 million riyals ($101 million). Yanbu National Petrochemical Co. slumped 5.9 percent to the lowest level since May 2009. The company's fourth-quarter profit dropped 36 percent.
"Most companies are likely to report results this week and this can certainly influence short-term direction," said Muhammad Faisal Potrik, the head of research at Riyad Capital. "However, if we look at dividend yields and expectations of oil prices one year out, some of the stocks are very attractively priced and long-term investors are unlikely to suffer losses if they start investing here."
The Tadawul's 14-day relative strength index fell to 16 on Sunday, the lowest level since August. A reading below 30 suggests to some analysts that a security may be oversold.
Gulf Slump
"Crude Oil breaking below $29 oil price has urged more investors to sell," said Talal Touqan, the head of research at Abu Dhabi-based Al Ramz Securities.
Qatar's QE Index tumbled 7.2 percent, the most since December 2009, and Abu Dhabi's ADX General Index slumped 4.2 percent to the lowest level since November 2013. It has declined 23 percent since a peak in July. Dubai's DFM General Index lost 4.6 percent in the highest trading volume this year.
Oman's MSM 30 Index fell 3.2 percent, the most since December 2014, and Kuwaiti stocks also dropped 3.2 percent to the lowest level since May 2004. Bahraini equities slipped 0.4 percent.
Oil Stability
While Saudi Oil Minister Ali al-Naimi is optimistic that market stability will return, it will take time, he said at a news conference in Riyadh on Sunday.
Bonds across the Gulf region slumped on Friday. The yield on Saudi Electricity Co.'s April 2043 securities surged 32 basis points, the most on record, to 6.93 percent. In the absence of dollar-denominated sovereign debt in Saudi Arabia, some investors use the company's bonds as a proxy because the state owns more than 70 percent of the energy operator.
The yield on Qatar government's debt due January 2020 bond climbed 14 basis points to 2.97 percent, and the rate on Dubai's notes due April 2029 increased 23 basis points, prices compiled.
Iran Rises
Iranian shares rose to the highest level since August, according to data on its website. The nation is seeking to attract at least $30 billion in foreign direct investment over the next five years, President Hassan Rouhani said in a televised speech.
"Investors shouldn't look at Iran to make a quick buck but rather invest with a long-term view to benefit from the best-performing market of the next five years," Ramin Rabii, the chief executive officer of Turquoise Partners, a Tehran-based investment company, said on Saturday. "We expect the Iranian economy to grow at a rate of 6 to 8 percent for several years."
Revenue from oil will act as a "supplementary income" for the country, Rouhani said.
Panicked Investors
Egyptian equities extended losses after their worst week since the Arab Spring. The EGX 30 Index fell 1.7 percent to the lowest level since October 2013.
"Local investors are panicking because of the selloff in Gulf markets after oil's drop last week," said Tamer Ismail, the head of dealing at Cairo Capital Securities. "Low oil prices should be positive for us, but people are ignoring that rationale and exiting the market while they still can."
The most populous Arab country is a net importer of crude and stands to save on its fuel subsidies bill with lower oil prices. Stock losses prompted the bourse to urge companies on Thursday to expedite the release of their 2015 results to ease "unjustified panic."
Israeli Gas
The stock gauge tracking Israel's oil and gas explorers rose as much as 5.1 percent after companies reported potential for an additional 8.9 trillion cubic feet of gas at licenses offshore. If gas is found, it would make it the third-largest discovery in the nation to date. That may help Israel become a regional energy hub and generate billions of dollars for the state, according to the nation's largest investment house.
The TA Oil & Gas Index closed 0.6 percent lower, while the TA-25 Index declined 0.4 percent.
A major gas find would boost Israel's "energy independence and increase the competition in the market," said Noam Pincu, an analyst at Psagot Investment House Ltd. in Tel Aviv. ~ Neal Bhai Reports