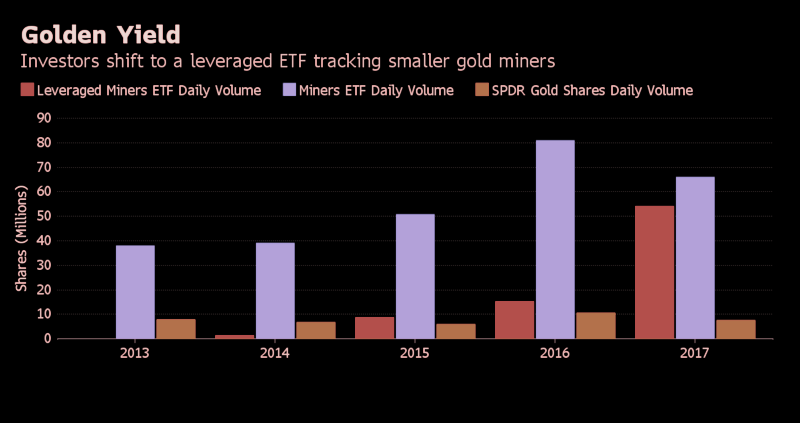 Gold Silver Reports — As the Direxion Daily Junior Gold Miners Index Bull 3x Shares almost tripled in the past two months, the number of shares changing hands has surged nearly fourfold this year. That's even as trading has dropped for an ETF tracking larger mining peers and for the SPDR Gold Shares, the largest bullion-backed fund. The boost in volume has also led to a jump in bullish options on the leveraged security, with more than two calls for each put.
Investors seeking refuge from political uncertainty in the U.S. and Europe have piled into gold in recent weeks, its appeal further buoyed by a perception that the Federal Reserve would be slow to raise borrowing costs. Betting on miners has the advantage of giving exposure to dividends, and going for a leveraged security amplifies the returns in a rallying market. The Direxion fund has soared almost 180 percent from a 10-month low in December, while the precious metal has climbed about 10 percent.  
"These are bets on turmoil," Bart Melek, TD Securities' head of commodity strategy, said in a telephone interview from Toronto. "This is a way of maximizing your potential returns."  
As the number of shares traded on the leveraged ETF surged to a daily average of 54 million this year, the volume of bullish options doubled to almost 19,700, compared with about 7,900 bearish contracts. At 1.6-to-1, the ratio of outstanding calls to puts on the fund is higher than for the VanEck Vectors Gold Miners ETF.
While betting on miners rather than gold brings the risks associated with investing in any company, the advantages outweigh the costs if the metal rallies, according to Asa Bridle, an analyst who specializes in smaller miners. The additional appeal of junior firms is that mergers or takeovers are more frequent and could raise their shares substantially. On the other hand, a leveraged product is not for the faint of heart — the Direxion fund has been about four times more volatile than the VanEck Vectors Gold Miners ETF in the past 100 days.
"These are higher risk investments, sure, but the returns tend to also be higher if you get it right," said Bridle, who works for Cantor Fitzgerald, one of the largest small and mid-cap mining trading houses in London. His firm handles $2.5 billion in daily stock trades. "This is a calculated risk." — Neal Bhai Reports
Investors Flock to Supercharged Gold Bet | Neal Bhai Reports