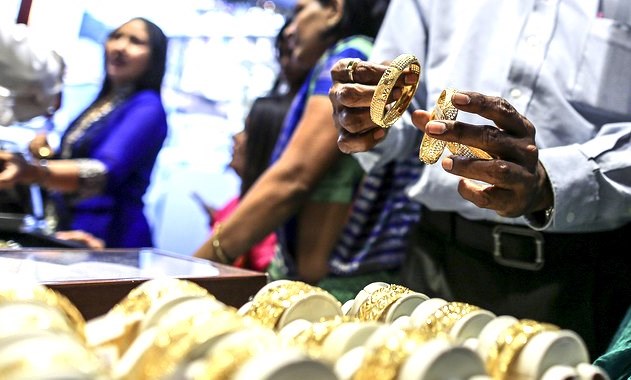 Gold Silver Reports ~ Physical gold demand in China was slow this week in the run-up to the Lunar New Year holiday, its biggest festive season, while Indian sellers increased discounts amid weak appetite for the metal.
A spike in the price of global spot gold to its highest since November, at near $1,130 an ounce, also discouraged buyers in the two countries, the world's biggest gold consumers.
"Demand is not exciting, I didn't see substantial demand. Some manufacturers are starting to close their factories for the Chinese New Year," said Dick Poon, general manager at Heraeus Precious Metals in Hong Kong.
The Chinese holiday will fall on Feb. 8-12 this year.
Gold in Hong Kong sold at a premium of 70 U.S. cents to $1.50 an ounce over the global spot benchmark this week, said Poon. That compares with a premium of $1.20-$1.50 last week.
On the Shanghai Gold Exchange, the world's largest physical gold exchange, the premium stood at between $2-$4 earlier this week before flipping to a modest discount on Thursday, said a trader at a bank in Beijing.
"It's getting closer to the Spring Festival so physicalDemand will go slow," he said.
In India, discounts widened to their greatest in three months amid a rally in prices and expectations of a reduction in importduty.Dealers were offering discounts up to $6 an ounce to the global spot benchmark this week, compared with a discount of up to $2 last week.
"Jewellers, retail consumers, all are postponing purchases," said Mayank Khemka, managing director of Khemka Group of Cos, adding that most of them are anticipating a decline in prices.Indian gold prices have risen more than 7 percent this year, hitting a three-month peak of 26,867 rupees ($395) per 10 grams on Thursday.
Khemka said prospective buyers were waiting for a possible cut in India's gold import duty.
The Indiangovernment will present the 2016/17 budget on Feb. 29. India raised the importduty on gold to 10 percent to curb demand, but it instead boosted smuggling of bullion and industry groups are urging a tax cut.
Many trading firms were also trying to unload huge inventories of gold, hence the discounts.
"They imported around $1,070 per ounce in December. Now they are making profit even after offering discounts of $5-$6," said a Mumbai-based dealer with a private bank.India's gold imports surged to 107 tonnes in December from 35.7 tonnes a year ago, industry officials estimate. ~ Neal Bhai Reports
($1 = 68.0750 Indian rupees)