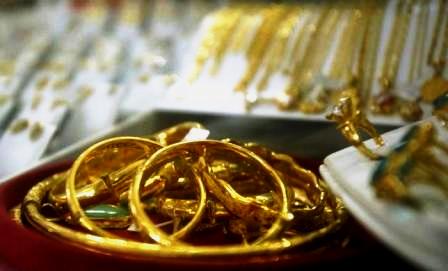 Gold Silver Reports ~ Gold rose on Monday, as the dollar edged lower on renewed oil market weakness and concerns over the global economic report which have raised questions about the Federal Reserve's pace of interest rate tightening.
The Federal Open Market Committee meets this week and is widely expected to leave its federal funds rate unchanged at 0.25-0.50 percent on Wednesday.
Spot gold XAU= rose 0.5 percent to $1,103.35 an ounce by 1052 GMT, extending a near one percent increase made last week, when investor appetite for risk evaporated on worries China's economic growth is slowing down.
U.S. gold for February delivery GCcv1 gained 0.8 percent to $1,104.70 an ounce.
Gold had scaled a two-month high of $1,112 on Jan. 8, but lacked upward-momentum before steadying mostly below $1,100.
"Gold's technical picture is slowly improving but a more sustained rally could only be confirmed by a break above $1,112-$1,113," said Activ Trades chief analyst Carlo Alberto de Casa.
Gold fell more than 10 percent last year, on expectations that higher U.S. interest rates would hit demand.
The Fed lifted rates for the first time in nearly a decade in December and hinted at gradual increases in 2016.
But a possible consumer pullback could now derail the U.S. central bank's tightening plans.
"Given the turbulence in financial markets, the Fed might not be able to hike interest rates too many times in 2016," said Mark To, head of research at Hong Kong's Wing Fung Financial Group.
"If gold can stay above $1,100 in the coming days, it may signal a further rebound, maybe even to $1,200 in the coming months."
Expectations for a March rate increase are starting to fade, and economists polled by Reuters now forecast three hikes in 2016 rather than the four initially floated by the Fed.
The U.S. government will release its first reading on fourth-quarter economic growth on Friday. Economists polled by Reuters suggest U.S. GDP growth of 0.80 percent in October-December and annual expansion of 2.5 percent in 2016. ECON
Hedge funds and money managers increased their bullish bets in COMEX gold in the week to Jan. 19, and boosted their positive bets in silver to the highest in more than two months, U.S. Commodity Futures Trading Commission data showed on Friday.
Spot silver XAG= rose 0.9 percent to $14.15 an ounce and palladium XPD= fell 0.1 percent to $495.90. Platinum XPT= climbed 1 percent to $837.74 per ounce, regaining some lost ground after falling to a seven-year low of $806.31 last week. ~ Neal Bhai Reports