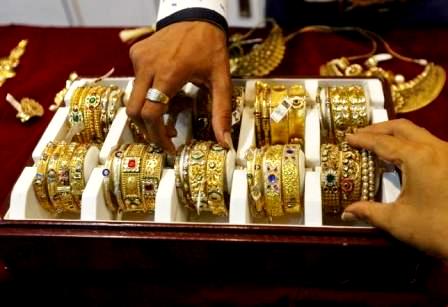 Gold Silver Reports ~ Gold Kiss 3 Month High, building on the previous day's gains to strike a 3 month high as global economic and financial headwinds present obstacles to a U.S. interest rate rise in the near term.
Gold Spot XAU= rose more than 1 percent at one point to touch $1,156.60 an ounce, its highest since Oct. 29, adding to Wednesday's 1.2 percent rise.
Silver Spot XAG= hit a 3-month peak of $14.91 an ounce. It was up 0.8 percent at $14.79 at 1546 GMT.
The yellow metal has benefited from a selloff in the dollar over the past two days as investors trimmed forecasts for U.S. rate rises this year. William Dudley, president of the Federal Reserve Bank of New York, said on Wednesday that financial conditions have tightened and Fed policymakers might have to take that into account if the trend continues.
Higher U.S. interest rates make non-yielding gold a less attractive asset.
By 1528 GMT spot gold was up 0.7 percent at $1,150.16 an ounce.
Matt Turner, analyst at Macquarie, said that while a weaker dollar and changing expectations about Fed policy were driving gold higher on Thursday, things could change on Friday depending on a key U.S. jobs report.
"We've got the non-farm payrolls report tomorrow, the simplest scenario is that if the data is strong, people will start thinking maybe the Fed can raise rates at some point and gold will go down, and if it's weak people will think it's not going to happen.
"But it's not that simple. To some extent gold has some momentum here so it's a bit difficult to say … but we've also seen quite an extreme move in the past few days and often those sort of moves see a pullback."
Seen as a safe haven during times of economic and financial turbulence, gold has now risen 9 percent this year as volatility in financial markets pushed investors into low risk assets.
Even if it were to pull back on Friday on the jobs report, analysts say it is unlikely to fall far.
"The market now sees only a 12 percent probability of a rate hike in March, so I am not expecting the price of gold to drop soon," Natixis analyst Bernard Dahdah said.
A Reuters poll forecasts U.S. non-farm payrolls will increase by 190,000 in January, after rising by 292,000 in December. ECONUS
U.S. gold for April delivery GCcv1 was up 0.8 percent at $1,150.5 an ounce. ~ Neal Bhai Reports