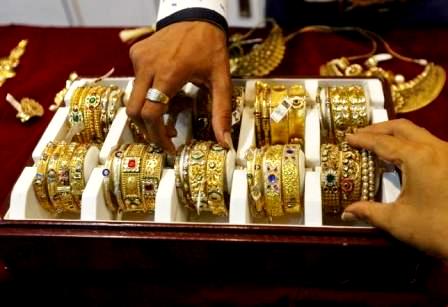 Gold Silver Reports ~ Gold prices rose modestly in Asia on Friday with investors noting an overall soft global economy spurring easy monetary policies that are likely to remain in place for some time.
On the Comex division of the New York Mercantile Exchange, gold for February delivery rose 0.13% to $1,099.90 a troy ounce.
Silver for March delivery fell 0.17% to $14.060 a troy ounce, while copper for March delivery gained 0.13% to $1.997 a pound.
Overnight, gold fell sharply erasing most of its gains from the previous session's rally, as the dollar soared on Thursday after ECB president Mario Draghi indicated that further easing measures could be forthcoming when the Governing Council meets again in March.
It came one day after the precious metal soared more than $15 an ounce, as investors piled into the safe-haven asset amid heightened concerns of a global economic slowdown due in large part to crashing energy prices and continued weakness in China. As equities worldwide suffer through their worst opening month of a year since the depths of the Financial Crisis, gold has gained more than 3% in January.
At a closely-watched meeting in Frankfurt, the ECB's Governing Council held its benchmark interest rate at a record-low of 0.05% and its rate on its marginal lending facility at 0.30%, in line with consensus forecasts. The ECB also left its deposit rate unchanged at minus 0.3%, one month after cutting it further into negative territory by 10 basis points. Analysts also expected the deposit rate to remain steady at negative 0.3%.
Citing increased downside risks in Emerging Markets, extreme volatility in global financial and commodity markets and weak inflation expectations, Draghi said the Governing Council will reconsider its monetary policy stance when it meets next in two months. Draghi appeared particularly concerned with the effect of falling oil prices on euro zone inflation, which is currently at 0.2% — considerably below the ECB's targeted goal of 2.0%. Since the Governing Council last met in December, Draghi noted that a variety of indicators it uses to gauge inflation expectations have declined noticeably.
The dollar has appreciated approximately 10% against the euro since last January when the ECB announced the launching of a comprehensive Quantitative Easing program aimed at staving off deflation and bolstering growth in the area. The program involves the purchase of €60 billion a month of assets by the central bank in order to increase the amount of money supply available for banks to lend money to businesses and individuals. Large-scale easing initiatives also typically push interest rates lower, reducing domestic investments by foreign purchasers and weakening the local currency against its main rivals.
Interest rates throughout the euro zone will likely remain at low levels for some time, Draghi added at a press conference on Thursday. As a result, the euro fell sharply against the dollar and the British pound. ~ Neal Bhai Reports