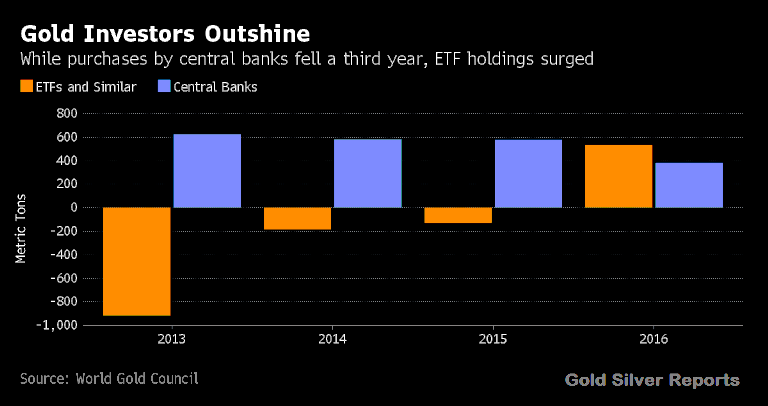 Gold Silver Reports — Gold ETFs Gain From Currency Pain — The flip side of declines in the euro, yen and pound in recent months has been a massive increase in gold buying as investors in Asia and Europe try to protect their wealth.
The hunger for bullion is so strong that purchases of exchange-traded funds backed by gold last year eclipsed buying by the world's central banks, the biggest holders of the metal, for the first time since at least 2010. So far in 2017, investors poured $3.1 billion into the ETFs backed by precious metals, after a record inflow of $23 billion last year. That's helped boost gold prices 6.8 percent since the end of December, following the biggest annual gain in five years.
The European Union and countries including Japan and the U.K. are using low interest rates to spur economic growth, including demand for their exports that become cheaper as their currencies weaken. President Donald Trump has blamed the depreciations for the U.S. trade deficit, and Joachim Fels, the global economic adviser at Pacific Investment Management Co., went so far as to suggest a "new currency cold war" by the world's central banks. 
"When you have a volatility in certain markets, a stable, safe place to go could be gold, which is almost a currency alternative," said Lara Magnusen, a La Jolla, California-based portfolio manager for Altegris Advisors LLC, which oversees $2.37 billion.
Billionaire investor Stan Druckenmiller, who sold all his gold in November, said he jumped back into the market in December and January. "I wanted to own some currency, and no country wants its currency to strengthen," he said in a Feb. 7 interview.
The Bank of Japan's move in September to anchor the nation's 10-year bond yields near zero "beautifully depreciated" the yen, Pimco's Fels said in a December blog posting. The euro tumbled after the European Central Bank decided in December to increase the pool of bonds eligible for quantitative easing, including those with yields below its deposit rate of minus 0.4 percent, he said.
President Trump's "America First" policy represents a fundamental change in the country's dollar strategy, Hiroshi Watanabe, the former currency chief of Japan's Ministry of Finance, said in January. The new government's attempt to shrink the trade deficit could weaken the U.S. currency, Watanabe said.
ETFs have become a steady source of gold demand as central banks slow their purchases. In China, the largest consumer of the metal, the central bank halted bullion purchases for a third straight month in January, while investors poured $132 million this year into Huaan Yifu Gold, the nation's largest commodity ETF. That helped boost total holdings in the fund to $931 million.
Last year, gold-backed ETF demand was strongest in Europe, according to the World Gold Council. The region is home to the British pound and the euro, two of the three worst performers among 16 major currencies. This year, six of the 10 precious-metals funds that attracted the most money were in the euro area, along with one in China, whose currency weakened in 2016 by the most in more than two decades.
In contrast, the currency-focused ETF that has had the biggest inflow this year, Dolar Trac, seeks to profit from declines in the Mexican peso relative to the dollar. The fifth-best performer in currency fund flows is ProShares UltraShort Yen.
Fund Flows
Even New York-listed SPDR Gold Shares, which at the end of last year posted its biggest quarterly withdrawal since 2013, is catching up with its peers. The fund has attracted $789.50 million so far this year, as the dollar weakened 1.7 percent against a basket of 10 major currencies. Total assets, now at 27 million ounces, surpassed Japan's holdings of the precious metal last year for the first time since 2015.
Gold-price gains may ease as the Federal Reserve accelerates its monetary tightening, National Australia Bank analysts said in their monthly outlook in early February. Three rate increases this year wouldn't be unreasonable, Chicago Fed President Charles Evans said Feb. 9. Higher interest rates curb the appeal of precious metals because they don't offer yields or dividends.
The weaker euro helped Xetra-Gold attract $1.6 billion this year, the most among 310 precious-metals ETFs. The $6.2 billion fund is listed in Germany, which has been accused by a Trump administration official of benefiting from a weaker currency. The weaker pound also helped send investors to the safety of London-listed gold-backed funds. ETF Securities Ltd.'s total assets soared last year by more than a third to 9.26 million ounces, surpassing Spain's gold holdings, buoyed by inflows into ETFS Physical Gold.
"In Europe, people are very concerned about currency depreciation and they're buying up gold ETFs and even gold coins," said Natalie Dempster, a managing director of the London-based gold council, which tracks supply and demand. "The German households that were absent from the gold market for so long have become hugely prolific buyers of gold." — Neal Bhai Reports