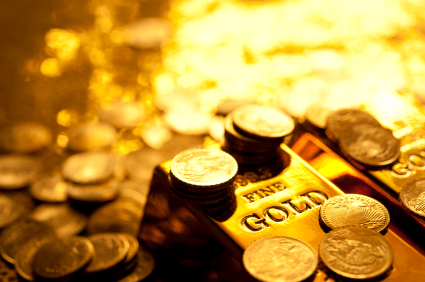 Gold Silver Reports ~ Gold edged lower on Friday as the dollar rebounded, but prices remained within reach of a 13-month high touched in early trade after the European Central Bank's announcement of new easing measures.
♦ ECB President Mario Draghi rolled out measures on Thursday including increased asset buying and a deeper cut to deposit rates, but signalled there would be no further rate cuts.
♦ Gold spot rose as far as $1,282.51 an ounce, its strongest since Feb. 3, 2015, before falling 0.4 percent to $1,266.60 by 1210 GMT, as the dollar rebounded from a three-week low versus the euro and European equities fell.
♦ U.S. gold for April delivery also eased 0.4 percent to $1,268.10 an ounce, after peaking at $1,287.80.
♦ Bullion had climbed 1.5 percent on Thursday, its biggest single-day gain in a week, as the dollar fell, and was on course for a second weekly rise.
♦ Gold has rallied about 20 percent this year, regaining its role as a shelter for risk-averse investors, in the face of tumbling equities and fears of a global economic slowdown.
♦ "Low or negative real rates and high equity risk premium can be very positive for gold," Deutsche Bank commodity analyst Michael Hsueh said.
♦ The relatively weak dollar and a repricing of expectations for U.S. interest rate rises have also helped the metal to rebound this year.
♦ The next main market focus is the U.S. Federal Reserve's policy meeting on March 15-16. The Fed lifted rates for the first time in nearly a decade in December.
♦ "The ratcheting back of policy expectations in the U.S., which has pushed us probably towards the lower end of the real rates spectrum, coupled with weakness in equities, tends to have a positive influence for gold," Hsueh said.
♦ Supporting bullion, holdings of SPDR Gold Trust, the world's largest gold-backed exchange-traded fund, rose to 25.68 million ounces on Thursday, the highest since August 2014.
♦ Physical gold demand slowed in top consumer China this week, while a strike by jewellers protesting against the imposition of a tax curbed demand in No. 2 market India. [GOL/AS]
♦ Silver spot slipped 0.2 percent to $15.57 an ounce, platinum was down 0.1 percent at $974.99 and palladium gained 0.2 percent to $572. – Neal Bhai Reports