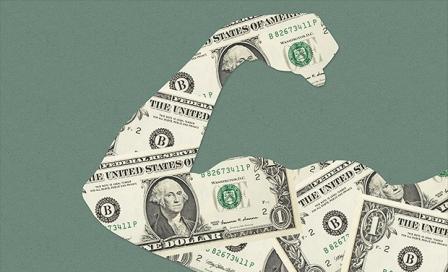 Gold Silver Reports – The dollar extended gains to hit a fresh three-week high against the other major currencies on Friday, as the release of strong U.S. data boosted optimism over the strength of the economy.
USD/JPY climbed 0.65% to 113.71.
The dollar strengthened after preliminary data showed that U.S. gross domestic product grew 1.0% in the fourth quarter, compared to a previously reported 0.7% growth rate and expectations for a 0.4% rate.
Data also showed that personal spending rose 0.5% in January, beating expectations for a 0.3% gain, after an increase of 0.1% in December.
In addition, the University of Michigan said its index of consumer sentiment rose to 91.7 in February from 90.7 the previous month, compared to expectations for an increase to 91.0.
In Japan, data earlier showed that Tokyo's consumer price index rose at an annual rate of 0.1% in February, compared to expectations for a 0.3% fall and after a 0.3% slip the previous month.
Tokyo's core CPI, which excludes fresh food, ticked down 0.1% this month, confounding expectations for a 0.2% fall and after a 0.1% decline in January.
EUR/USD dropped 0.63% to a one-month low of 1.0947.
In the euro zone, preliminary earlier data showed that Germany's CPI ticked up 0.4% in February, disappointing expectations for a 0.5% rise, after a 0.8% fall the previous month. Year-on-year, consumer prices were flat, compared to expectations for a 0.1% gain.
The dollar was also higher against the pound, with GBP/USD down 0.51% at 1.3891 and with USD/CHF advancing 0.69% to 0.9972.
Sterling remained under pressure as concerns over a potential Brexit lingered.
Several senior members of Prime Minister David Cameron's Conservative party, including London Mayor Boris Johnson, said this week that they will be backing the campaign to leave the EU, in a blow to his plans to remain in the bloc.
Meanwhile, the Australian and New Zealand dollars were weaker, with AUD/USD down 0.97% at 0.7166 and with NZD/USD sliding 0.65% to 0.6680.
USD/CAD held steady at a two-and-a-half month low of 1.3536.
The commodity-related loonie gained ground as oil prices remained supported above $33 a barrel following reports Saudi Arabia, Qatar, Venezuela and Russia will meet in March to discuss capping crude oil production.
The U.S. dollar index, which measures the greenback's strength against a trade-weighted basket of six major currencies, was up 0.60% at 98.02, the highest since February 3. – Neal Bhai Reports