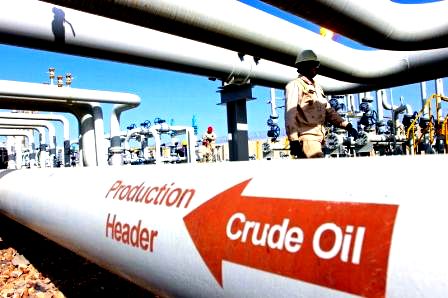 Gold Silver Reports ~ Crude Oil prices fell in early trading on Monday after South Korea posted its weakest export data since 2009 and the prospect of a coordinated production cut by leading crude exporters seemed remote.
Front-month Brent crude was trading at $35.55 per barrel at 0047 GMT, down 44 cents or over 1.2 percent from the last close. U.S. West Texas Intermediate was down 32 cents at $33.30 a barrel.
South Korea posted an 18.5 percent year-on-year drop in exports on Monday to $36.7 billion, down to levels last seen at the height of the global financial crisis in 2009.
The slump in the export-oriented northern Asian economy is the latest indicator of an accelerating slowdown in Asia's biggest economies.
At the same time, the prospects of a coordinated cut in production by leading exporters like the Organization of the Petroleum Exporting Countries (OPEC)and Russia seem difficult to realize due to differences between these producers.
Also, OPEC-member Iran, which this month was allowed to fully return to markets after years of sanctions were lifted, is not willing to participate in any cuts.
"The lack of political will may hinder prospects for a deal," ANZ bank said.
In part because of Iran's return, OPEC oil production has jumped to 32.60 million barrels per day (bpd), its highest in years, adding to a global glut that has seen over 1 million barrels of crude produced every day in excess of demand, pulling down prices around 70 percent since mid-2014. ~ Neal Bhai Reports