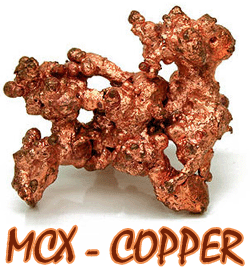 Gold Silver Reports → Copper settled down -0.34% at 318.10 but recovered from the day's low as sentiments boosted by the weak dollar, but the expected short-term gains, amid worries that global economic growth in poor condition will be restricted metal consuming nations of China's economic activity. Support seen with the Chinese government supports the initiative to show the effect of this year, China's housing prices are likely to rise, the outside world is widely expected in the next few months China will further relax the policy.   
Meanwhile Chinese Ministry of Industry said that the Chinese economy faced downward pressure increase. Also IMF on Wednesday in a report that the G20 must now plans to stimulate joint initiatives to stop the momentum of the global economic slowdown. Also China still owns the world's largest currency reserves, but it has been burning through them at such a pace that some think Beijing might soon have to allow a sharp fall in the yuan or back-pedal on liberalization and tighten its capital controls.
While US home resales unexpectedly rose in January, reaching a six-month high, in the latest sign that the economy remains on firmer ground despite slowing global growth and tightening financial market conditions. It is still unclear whether the recent downturn in global financial markets will have any substantial impact on the U.S. economy, Federal Reserve Vice Chairman Stanley Fischer said on Tuesday, suggesting the episode may still pass without much effect on the Fed's plans. This week the net long position of funds trading copper on the LME rose to 10,134 lots last Friday from a net long position of 9,154 lots on Feb. 12, the LME's COTR showed on Tuesday. Technically now Copper is getting support at 314 and below same could see a test of 312 level, and resistance is now likely to be seen at 322, a move above could see prices testing 322.  – Neal Bhai Reports
Trading Range Reports:
⊕ Copper Mcx intraday Range 312 to 322.