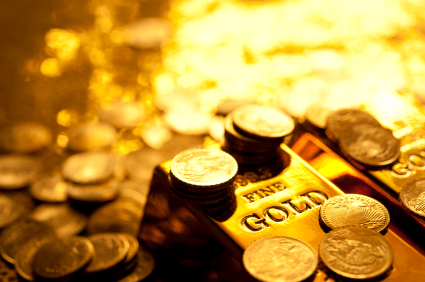 Gold Silver Reports — Gold flirted with its longest run of declines in three weeks as a gauge of global equities headed for the highest level this year, improving investorrisk appetite and curbing demand for haven assets.
The metal lost 1.4 % and was poised for its 1st 3-day retreat since March 21. The MSCI All-Country World Index rallied for a fifth straight session, set for the highest close since Dec. 29.
Gold surged this year amid concerns about the global economy and as traders reduced expectations for the pace of U.S. interestrate increases. Bullion's gains have slowed since early March as stock markets rallied and indicators signal some stabilization for China's economy, with data this week showing the country's exports jumped the most in a year.
"The market is now focused on equities and gold is taking a back seat for the short-term," Bob Haberkorn, a senior market strategist at RJO Futures in Chicago, said in a telephone interview. "The market is back in risk-on mentality and that's putting-pressure on gold."
Bullion for immediate delivery traded at $1,225.77 an ounce at 2:21 p.m. in New York, according to Bloomberg generic pricing. Prices are still up 16 % this year. Gold futures for June delivery slid 1.7 % to settle at $1,226.50 on the Comex in New York.
Economic data from the U.S. were mixed, with applications for unemployment benefits declining to the lowest since 1973, while the March cost of living, excluding food and fuel, posted the smallest gain since August.
Holdings in exchange-traded funds backed by gold fell 3.85 metric tons to 1,761.9 tons on Wednesday, dropping from the highest since March. — Neal Bhai Reports