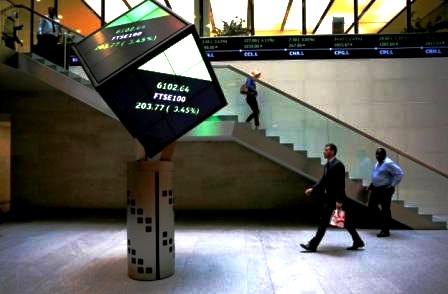 Gold Silver Reports ~ Shares in Europe and Asia rose and the dollar gained after data showing China's economy grew last year at its slowest pace in a quarter of a century prompted investors to anticipate more efforts to spur growth.
Crude Oil rates rose after strong Chinese fuel demand halted a slide to 2003 lows triggered by the lifting of sanctions on Iran, while metals prices rose.
Concerns about Chinese authorities' ability to rebalance the slowing economy have rattled investors this year after a plunge in stock markets and the yuan currencyraised concerns growth may be slowing more rapidly than previously thought.
China's economy grew 6.9 percent last year, and 6.8 percent year-on-year in the fourth quarter, down from 6.9 percent in the third and the weakest pace since the first quarter of 2009, data showed.
Quarter-on-quarter, growth slipped to 1.6 percent in the last three months of 2015 from 1.8 percent in the 3rd.
In a harbinger of slower growth to come, retailsales, industrial output and fixed-asset investment last month all came in below the expectations of analysts.
Mining company shares led European shares higher after metals prices rose following the Chinese data.
The pan-European FTSEurofirst 300 index rose 2 percent, rebounding from a 13-month low hit on Monday. The STOXX Europe 600 Basic Resources index, which includes miners, added 5.5 percent. Britain's FTSE 100 index rose 1.9 percent, with Anglo American up 11 percent and Glencore adding 10.5 percent.
"As figures weaken in absolute terms, we can potentially see additional stimulus measures. That is helping investors' appetite for risk," said Philippe Gijsels, head of research at BNP Paribas Fortis Global Markets.
Wall Street looked set to open higher, with e-mini index futures up 1.6 percent.
MSCI's broadest index of Asia-Pacific shares outside Japan rose 1.7 %, bouncing off a four-year low touched earlier.
Chinese shares rose on strengthened expectations of more stimulus. The CSI 300 index of the largest listed companies in Shanghai and Shenzhen closed up 3.0 percent while the Shanghai Composite gained 3.2 percent, after hitting a 13-month low on Monday.
Tommy Xie, economist at OCBC Bank in Singapore, said he expected more stimulus from the Chinese central bank, but that the stability of the yuan, also known as the renminbi, was critical to maintaining growth.
"If the renminbi continues to weaken, the volatility and capital outflows get worse, then that is likely to pose a challenge to growth."
The yuan traded at 6.5785 to the dollar in onshore markets, little changed from the previous close.
The International Monetary Fund cut its global growth forecast for the third time in less than a year, to 3.4 percent in 2016 from 3.6 percent previously, citing a sharp slowdown in Chinese trade and weak commodity prices.
The dollar gained against the safe-haven Japanese yen in anticipation of further action by Beijing, possibly as soon as next month.
The U.S. currency gained 0.6 percent 117.97 yen while the euro fell 0.2 percent to $1.0872. The Australian dollar, whose fortunes are closely linked to China, a major market for Australia, rose 1.1 percent to $0.6935.
LOW-RISK
The rise in stock markets nudged yields on low-risk German government bonds higher. Ten-year yields rose 1.7 basis points to 0.49 percent.
*Crude Oil prices took heart from data showing Chinese fuel demand last year rose compared with 2014, up 2.5 percent to 10.32 million barrels a day.
Brent crude, the global benchmark, rose $1.30 a barrel to $29.81. It hit lows not seen since 2003 on Monday on the prospect of Iranian output swelling a global glut.
Copper, of which China is the major consumer, rose 1.3 percent to $4,434 a tonne, having earlier hit a one-week high at $4,476 a tonne. Nickel prices also rose.
Gold held broadly steady at $1,087 an ounce. ~ Neal Bhai Reports