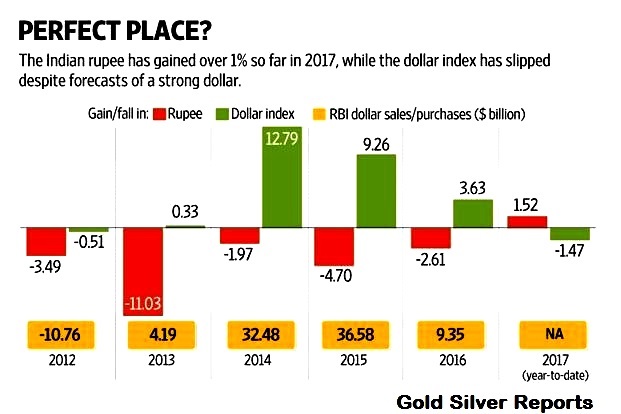 Gold Silver Reports — For all the forecasts of a sharp depreciation to 70 per dollar and beyond, the Indian rupee barely budged in 2016, weakening by just 2.6%. It has since then appreciated this year by over 1% to about 67 to a dollar now.
That such a stable performance came in a year marked with unprecedented volatility in emerging market currencies amidst unexpected shocks is surprising.
The dollar index had gained 3.6% during the year and most emerging market currencies weakened by a greater margin than the Indian currency. The word on the Street was that since India had put its house in order by reducing the twin deficits and reining in inflation, there is no need for the rupee to follow its emerging market peers.
In March last year, former RBI governor Raghuram Rajan had said that market forces bring the exchange rate to its Goldilocks level and the regulator only intervenes to smoothen the journey. Going by his words, the rupee seems to have found its Goldilocks level.
The Bank for International Settlement (BIS) would certainly have you believe that the Indian rupee is at its fair value. Its REER (Real Effective Exchange Rate) for the rupee puts the currency at a mild overvaluation of 1.09% last December.
The fact that the exchange rate moved in a narrow band in 2016 largely because of deft intervention by RBI shows that perhaps the central bank too feels that 67-68 to a dollar is the right level for the rupee. RBI, on an average, had bought or sold around $6 billion every month in 2016 and intervened to a larger extent in the forward market.
RBI's own REER for the rupee shows that the currency is overvalued by 16% in January and was overvalued 17% in December. But Rajan had poked enough holes in this REER by saying that it does not take into account productivity differentials. Note that the BIS index and the RBI index differ in base years and the composition of currencies. But the BIS indices? consider some form of productivity measure.
Forecasts for the rupee to weaken to 70/$ and beyond are back for 2017 as well. If the rise in foreign exchange reserves is to be relied upon, the central bank has been a net buyer of dollars so far in 2017. Foreign currency assets have risen by $2.6 billion in January and another $915 million in the first week of February. It is clear that the RBI doesn't want an appreciating rupee as well.
If the tide turns, RBI could swiftly become a dollar seller too as it sits on a huge pile of forex reserves. Additionally, the copious rupee liquidity makes it even easier for the RBI to sell dollars. Edelweiss Securities lists rising commodity prices, drying up of dollar inflows and an expected rise in inflation to work against the rupee and forecasts it to fall to 72-73 this year. Whether this forecast and countless others will come true depends on what the RBI does. And the answer lies in Governor Urjit Patel's interview to a television channel in which he said the rupee is where it should be. — Neal Bhai Reports
Has the rupee found its Goldilocks level? | Gold Silver Reports