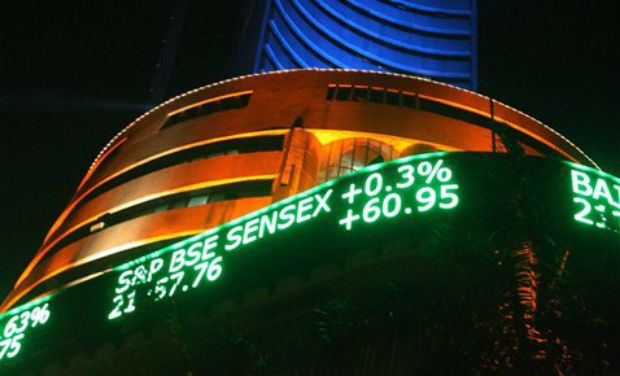 Gold Silver Reports — Nifty Fire Fire Fire Power- Realty Stocks Zoom – Rising global stocks had a rub-off on Indian market on Thursday as the Sensex surged with Brexit fears slowly starting to subside amid the June derivatives expiry. This was the fourth straight day that the Sensex brought up gains.
The rupee's improving fortunes against the dollar buoyed mood too. Short-covering by participants with today being the last trading session of the June series of derivative contracts supported the upmove. On Wednesday, a string of economy-boosting policy decisions taken by the Cabinet, including approval to 7th pay panel recommendations, also brought back investors from the sidelines.
Sentiment was bolstered on hopes that the long-awaited GST bill may be passed in the upcoming monsoon session of Parliament.
Sensex – Nifty Future Latest Updates Reports
1:45pm: BSE Sensex gains 281.94 points, or 1.05%, to 27,022.33, while the Nifty rises 87.15 points, or 1.06%, to 8,291.15.
1:40pm: Multiplex companies are trading higher. PVR Ltd rises 7.8%, Eros International Media Ltd rises 1.3%, Inox Leisure Ltd rises 3.7%.
1:30pm: Media companies are trading higher. Network 18 Media Investments Ltd rises 1.7%, TV18 Broadcast Ltd rises 1%, Zee Entertainment Enterprises Ltd rises 1.8%, TV Today Network 1%.
1:20pm: Auto companies are trading higher. Tata Motors Ltd rises 2.7%, Bajaj Auto Ltd rises 1%, Maruti Suzuki India Ltd rises 0.6%, .
1:10pm: Power stocks are trading higher. Bharat Heavy Electricals Ltd rises 4%, NTPC Ltd 2.2%, Reliance Power Ltd 2%, Reliance Infrastructure Ltd 1.5%, Crompton Greaves Ltd 1.4%, ABB Ltd 1.1%, Suzlon Energy 1%, Siemens 1%.
12:55pm: Realty stocks are trading higher. HDIL up 3.3%, Sobha Ltd rises 2.9%, Indiabulls Real Estate Ltd 2.4%, DLF Ltd 1.6%, Godrej Properties Ltd 1.6%, Unitech Ltd 1%.
12:45pm: BSE MidCap rises 0.7% to 11,657.53. The index gained for the fourth consecutive sessions. Since 24 June it gained 3.2%. BSE SmallCap rises 0.9% to 11798.89. The index gained for the fourth consecutive sessions. Since 24 June it gained 3%.
12:35pm: State Bank of India gained 1.6% to Rs.220.65. Since 23 May, the bank gained 32% and so far this year it fell 1.7%.
12:25pm: BSE Sensex gains 175.68 points, or 0.66%, to 26,916.07, while the Nifty rises 52.90 points, or 0.64%, to 8,256.90.
12:15pm: Exide Industries Ltd rises 1% to Rs.167.40 after Goldman Sachs has upgraded the stock to Neutral.
12:05pm: Max Ventures and Industries Ltd rises 5% toRs.63.20. According to NSE block deal data on Wednesday, Morgan Stanley has bough 3 lakh shares of the company.
11:55am: JP Group companies surged in last one month on the back of higher volumes. Jaiprakash Associate Ltd gained 50% in last one month, Jaypee Infratech Ltd gained 62%, Jaiprakash Power Ventures Ltd surged 52%.
11:45am: Tata Motors Ltd jumped 3.1% to Rs.460.90. The stock gained for the second consecutive sessions. Moody's Investors Service has affirmed the Ba2 corporate family rating (CFR), Ba2-PD probability of default rating (PDR) and Ba2 senior unsecured rating of British multinational automotive company Jaguar Land Rover Automotive Plc (JLR). The outlook on the ratings remains positive
11:35am: Auto ancillaries companies trading higher on the back of higher volumes. Motherson Sumi Systems Ltd rises 2.4%, Exide Industries ltd rises 0.6% to Rs.167, Amara Raja Batteries Ltd rises 1% to Rs.885, Bosch Ltd rises 1% to Rs.23,110, Wabco India Ltd rises 1% to Rs.5,800, Amtek Auto Ltd rises 2% to Rs.36.15.
11:25am: Reliance Communications Ltd rises 3.4% to Rs.50.25. The stock gained for the fourth consecutive sessions. Since 24 June it gained 7% and so far this year it fell 43%. Reliance Communications Ltd (R-Com) on 24 June said it is expecting to sign a binding documentation for merging Aircel Ltd with itself very shortly.
11:15am: Alembic Pharmaceuticals Ltd rises 8% to Rs.589 after the company informed BSE that the Company's API Facilities i.e. API I and API II both located at Panelav have been successfully inspected by the USFDA between 20 June 2016 and June 29, 2016. The Company did not receive any Form 483 observations.
11:05am: Gail India Ltd rises 1.5% to Rs.389.30 ahead of the Mahanagar Gas Ltd listing which will be on 1 July.
10:55am: Excel Realty N Infra Ltd rises 18% to Rs.45.90 after the company said in a notice to BSE that it bagged an order fro IT enabled service from a UK based customer for $3.06 million for three years.
10:45am: Sindtex Industries and NIIT Tech will be included in the Future and Option segments. Sintex Industries Ltd rises 5.5%, NIIT Technologies Ltd rises 4%.
10:35am: Diamond Power Infrastructure Ltd rises 5% toRs.46.85 after the company said in a notice to BSE that lenders approved re-alignment of debt as per plan submitted by the company. The prospective investors to hold 51% stake in the company.
10:25am: Zensar Technologies Ltd rises 2% to Rs.985 after the company said that it has partnered retail company Unicomer for financial and procurement process transformation.
10:15am: IDBI Bank Ltd up 1.6% to Rs.70.20. The bank said in a notice to BSE that its board approved the appointment of RK Bansal, Executive Director as CFO and Key Managerial Personnel of IDBI Bank from 1 July in place of NS Venkatesh, Executive Director & CFO who demits office on 30 June.
10:05am: Tata Steel Ltd up 1.4% to Rs.317.70. The UK's decision to leave the European Union (EU) has not had any immediate impact on Tata Steel Ltd's plans to sell its Port Talbot manufacturing facility. "The sale process is on," Tata Steel's group executive director (finance and corporate) Koushik Chatterjee said in Kolkata on Wednesday.
9:55am: The 30-share S&P BSE Sensex is currently trading higher by 225.46 points, or 0.84%, to 26,965.85, while the Nifty 50 of the National Stock Exchange (NSE) rises 62.85 points, or 0.77%, to 8,264.65.
9:45am: Future Enterprises Ltd rises 5.2% to Rs.25.45 after the company said it sold 14% stake in its supply chain unit to Griffin.
9:35am: Uttam Galva Steel Ltd rises 20% to Rs.35.25 after CNBC TV report said that the company may soon be put on the block. Liberty House, JSW Steel among the potential buyers in race to acquire the company.
9:30am: The Indian rupee on Thursday strengthens to its one-week high against the US dollar, tracking the gains in local equity markets. The rupee is currently trading at 67.55, up 0.20%, from its previous close of 67.69.
9:25am: India's 10-year bond yield is trading at 7.446%, compared with Wednesday's close of 7.444%.
9:20am: The yen, seen as a safe haven, strengthens sharply after the British referendum, but the volatility has since settled. The dollar is trading at ¥102.75, up from ¥102.30. The euro rises to $1.1108 from $1.107.
9:10am: In energy trading, benchmark US crude falls 42 cents to $49.46 a barrel in New York. Brent crude falls 49 cents to $50.83 a barrel in London.
9:05am: Japan's benchmark Nikkei 225 edges up 0.9% in early trading to 15,711.98, while South Korea's Kospi rises 0.3% to 1,962.49. Australia's S&P/ASX 200 adds 1.6% to 5,223.90. Hong Kong's Hang Seng index rises 1.1% to 20,668.01. The Shanghai Composite is little changed, inching down nearly 0.1% to 2,929.54.
9:00am: Asian shares are mostly up on Thursday as markets continued to gradually get over the shock set off by Britain's vote last week to leave the European Union.
8:50am: US stocks advanced amid a global rally, with the S&P 500 Index posting its strongest two-day climb in four months, as tension eased over the impact of a UK exit from the European Union. The S&P 500 rose 1.7% to 2,070.77. The Dow jumped 284.96 points, or 1.6%, to 17,694.68. The Nasdaq Composite Index increased 1.9%. — Neal Bhai Reports