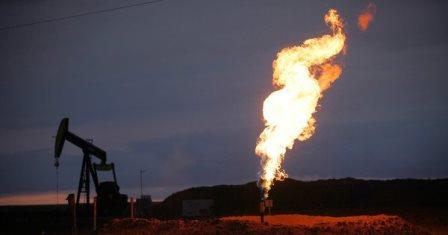 Gold Silver Reports — Technically Natural gas market is under long liquidation as market has witnessed drop in open interest by -1.33% to settled at 5476 while prices down 3.4 rupees.
Now Natural gas is getting support at 187 and below same could see a test of 185 level, And resistance is now likely to be seen at 195, a move above could see prices testing 199. 
Natural gas on MCX settled down -1.74% at 192 as trader book there long positions as the Energy Department's report on the nation's commercial gas inventories disappointed traders. The Energy Information Administration said gas stocks dropped by 53 billion cubic feet last week, edging down to 2.24 trillion cubic feet.
While market had believed U.S. natural gas inventories would fall by as much as 72 billion cubic feet. The nation's gas stockpile has come down from 2.48 trillion cubic feet a year ago, but still higher than the five-year average of 1.85 trillion cubic feet.
Now total natural gas in storage currently stands at 2.242 trillion cubic feet, according to the U.S. Energy Information Administration, 9.5% lower than levels at this time a year ago but 17.6% above the five-year average for this time of year. Prices of the heating fuel are down around 22% so far this year as forecasts for warm winter weather weighed on heating demand expectations.
Meanwhile based on data from the National Oceanographic and Atmospheric Administration, this year's extremely warm winter has pushed heating demand for natural gas to nearly 20% below average. About half of U.S. homes use natural gas for heating.
Without significant demand for natural gas, inventories could stay near record levels and may even continue to pull prices even lower. — Neal Bhai Reports
MCX Natural Gas Support Level at 187 | Gold Silver Reports