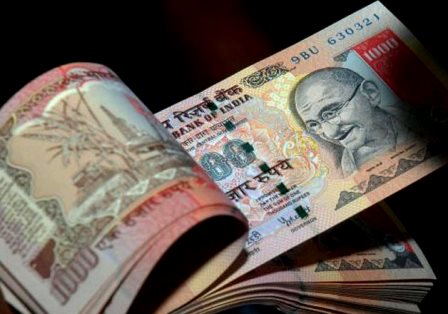 Gold Silver Reports ~ A gauge of expected swings in the Indian rupee rose to the highest level since November amid outflows from Indian stocks and bonds.
Foreign holdings of rupee-denominated debt fell 7.5 billion rupees ($111 million) last week, data from National Securities Depository Ltd. show. Stocks saw withdrawals of $345.5 million in the four days through Jan. 14, taking outflows for January to $686.2 million, as a selloff in China triggered losses in emerging-market equities. India's currency reserves dropped in the two weeks ended Jan. 8, data showed Friday, signaling the central bank is intervening as the rupee extends its losses from 2015 into the new year.
"The rupee is likely to depreciate further before stabilizing," said Gaurav Sharma, a senior currency analyst at Religare Commodities Ltd. in Noida, near New Delhi. "The global equity selloff has raised concern about capital flows."
~The rupee's 3~month implied volatility jumped 15 basis points to 7.50 percent in Mumbai, data compiled by Bloomberg show. The gauge, used to price options, climbed to 7.5850 percent earlier, the highest level since Nov. 12. In the spot market, the rupee declined 0.1 percent to 67.68 a dollar.
The yield on the benchmark sovereign notes due May 2025 was little changed at 7.81 percent, according to the Reserve Bank of India's trading system. The benchmark S&P BSE Sensex index of shares slumped 1.1 percent, taking its loss in 2016 to 7.4 percent.
India's currency stockpile declined $2.8 billion to $326.4 billion, the steepest two-week drop since September. ~ Neal Bhai Reports