Gold price advanced after U.S. inflation data came in lower than expected, easing concerns that the Federal Reserve will be forced to pare back its bond buying soon.
The consumer price index increased 0.3% from July, the smallest advance in seven months, according to a government report Tuesday. The dollar declined and Treasury yields slipped, boosting demand for non-interest-bearing bullion.
Bullion has come under pressure this year on concerns pandemic-era stimulus programs will soon be tapered as the global economy recovers. Last year, the metal surged to a record high on a wave of investor money, much of which has since been clawed back.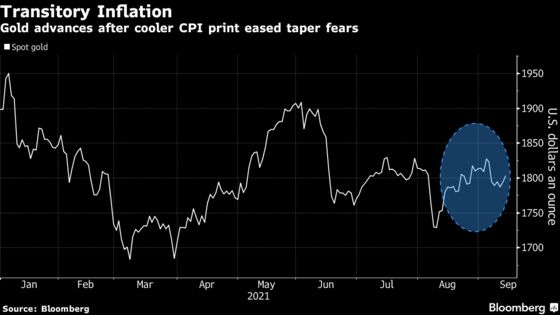 The inflation data "likely eased fears that the Fed will be forced to take an aggressive approach to taper later this year," TD Securities strategists led by Bart Melek said in a note. "Given the Fed's apparent tilt to full employment, any data weakness should serve as an accelerator to gold's upside move."
Spot gold rose as much as 0.8% to $1,808.67 an ounce and was trading at $1,804.22 as of 2:34 p.m. in New York. Bullion futures for December delivery rose 0.7% to settle at $1,807.10 on the Comex. Dollar Spot Index fell as much as 0.3%. Silver gained while platinum fell. Palladium dropped as much as 7.5%, slipping below $2,000 for the first time since July 2020.
सोशल मीडिया अपडेट्स के लिए हमें Facebook ( https://www.facebook.com/goldsilverreports/ ) और Twitter ( https://twitter.com/goldsilverrepor ) पर फॉलो करें।
हमारी फ्री सर्विस और लोगो की paid सर्विस से कई गुना अच्छी है।
आपको हर दिन दिए जाएंगे 3 से 5 कॉल बिलकुल फ्री
हर CALL में PROFIT दिये जायेंगे
तो जल्दी से MCX CHANNEL को JOIN कर लो (NEAL BHAI REPORTS)
JOIN US CLICK HERE
EQUITY CHANNEL को JOIN कर लो(EQUITY FREE TIPS)
JOIN US CLICK HERE