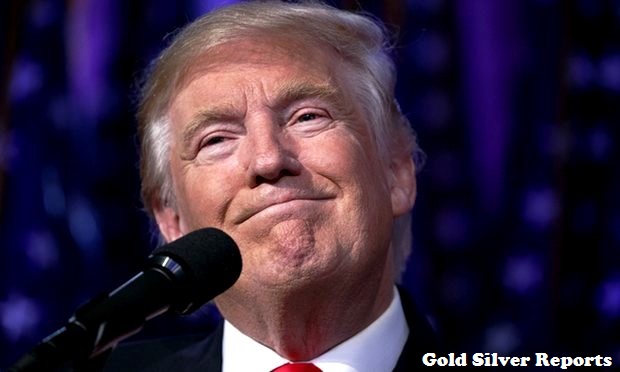 Gold Silver Reports — Trump and Elections; Boost Europe Gold ETFs — For a clue at how much anxiety there is among European investors, take a look at Xetra-Gold, the exchange-traded fund backed by bullion that lured the most money among its peers this year.
Investors poured almost $906 million into the Frankfurt-listed ETF this month, on course for its biggest inflow since inception in 2007. Institutional investors are driving demand for Xetra-Gold, Steffen Orben, a managing director of Deutsche Börse Commodities GmbH, the issuer of the ETF, said in a statement Feb. 13, when holdings were estimated at 157.9 metric tons.   
Bullion prices have rallied more than 9 percent this year as investors seek havens amid anxiety over anti-establishment electoral candidates in the Netherlands, France and Germany. Concern has mounted that victories for those candidates could cause more exits from the European Union after the U.K. voted to leave the bloc in June. Investors are also trying to gauge the impact on economic growth of U.S. policies under President Donald Trump, who addresses Congress on Tuesday.   
"Demand for gold as a safe haven is likely to remain high amid uncertainty," Commerzbank AG analysts including Eugen Weinberg said in a note Monday. "The increased buying interest is reflected both in ETF inflows and the market positioning of speculative financial investors."
Gold for immediate delivery added less than 0.1 percent to $1,257.60 an ounce at 2:01 p.m. in New York. On Friday, prices rallied to $1,260.23, the highest since Nov. 11. On the Comex in New York, gold futures for April delivery settled little changed at $1,258.80.    
In the week ended Feb. 21, money managers boosted their net-long position in gold futures and options by 21 percent, according to U.S. Commodity Futures Trading Commission data released three days later. Wagers on price gains outnumbered bets on declines by 82,464 contracts, the most since Nov. 29.
Assets held by Xetra-Gold soared by almost half this year to $6.5 billion, making it the third-biggest such fund backed by precious metals. Six of the 10 precious metals ETF that lured the most money this year are listed in the euro area. — Neal Bhai Reports
Trump and Elections; Boost Europe Gold ETFs | Neal Bhai Reports